Last Updated on April 22, 2022 by Amit Abhishek
An anchor is not something that you need just to park your boat but rather a basic necessity. There are many things out in water which push your boats; trying to make your boat drift. If there is anything that keeps your boat in place is the anchor irrespective of the weather conditions.
When you are out in the water the waves will try to push and move your boat from one place to another. With no fix ground to hold the boat will literally drift endless in effect of the tides, wind and waves. So when you want to go for a successful fishing trip; you need to have something to keep it still at place.
That's what the anchor is used for. In general an Anchor is a heavy object with shank and a pair of curved flukes; that dig deep into the bottom of the water keeping your boat grounded when not moving. Basically you need a good anchor when fishing, cooking or just relax quietly.
With many options to pick and many size to go for; you need someone expert in the field to help make the best choice. Whether you are looking the one for a big boat or a smaller one, for rivers lakes or sea; we got you covered. After investing more than 3 days researching and trying on myself; i have came up with this article with different anchors available with their pro's and con's.
We knew how frustrating it is to choose a right anchor for our beloved boat. So i take extra effort to make it a helpful guide to make correct purchasing decision.
7 Best Boat Anchor For Lakes, Rivers & Shores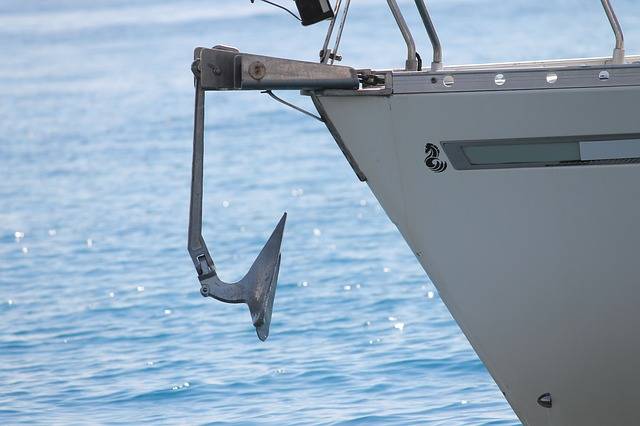 1 ) Manson Galvanized Supreme Anchor
The mansion galvanized supreme anchor is one of the finest anchor available in the market for both small and large boating needs. Made first in 2003 it is well known in the industry for its strength and holding power. It is designed as such to provide great stability even in rough seas. This means you can trust on it at all times in any wind condition.
The dual shank slots enable it to dig in fast in any surface types from sandy seabeds to muddy or rocky riverbeds. Made of high tensile steel the shank is almost 25% more stronger than other anchors types. Moreover the roll bar mechanism ensures the anchor rolls on itself to get to correct sitting position.
No matters whether its 20 feet deep or 140 the anchor will hold on to its position once launched even in 48 knots wind. It will fit with ease at your bow and work flawlessly for years. Thanks to its superior quality and high holding strength; the anchor itself have received Super High Holding Power approval from Lloyd's registration.
The anchor came in five major size of 15, 25, 35, 45 and 60 pounds with many other variation ranging from 10 pounds to 400. The light weight anchors 10, 15, 25 and 35 pound anchors are best for small boats; i.e the one used for pleasure, cruising, water sport and inshore fishing. On another hand the 45, 60 and higher weight size are best fit for larger boats.
Check Current Price On Amazon !
It's Pro's
One of the best boat anchor available.
SHHP approved by Lloyd's registration
Best performance in all surface type – Rocky / Sandy / Muddy
High strength and long life
Simple and clean construction
Can hold to its position even in very rough seas
It's Con's
Does not came with anchor chain
Relatively costlier than other anchor type.
2 ) Shoreline Marine 7 Slip Ring Anchor Kit
Not all best anchors are made for shallow waters but it does. When others anchors need additional chain and rope the shoreline marine anchor kit have it all for the same price. Its a good solid product idle for small boats with rope, chain and anchor combined together. The anchor is heavy and provide resistance enough to secure the boat against any environmental factors.
Whenever you have budget in constrain and want to buy somethings that is rock solid and fit for your boat; there is no better options other than the shoreline marine 7 slip ring anchor kit. The anchor is of the flute type and is of good quality with the quality of ropes exceptionally well for the price.
While the anchor and rope are of the superior quality; strong enough to hold your boat in bay even in a windy weather. The chain is where the problem lies due to rusting issues. But when you consider it with the size, weight and its price its not much of a problem; expecting the quality you get at cheaper price.
The anchor kit came with a seven pound flute anchor, a small chain and a ten to fifteen feet long nylon rope. Having a flute profile ensures the anchor to fix to the sea or river bed.
If you like to checkout more about the shoreline marine anchor kit; you can Find It Over Here on Amazon.
It's Pro's
Very simple and clean construction
All in one anchor kit
Best boat anchor kit at low price
High strength and holding power
Long life with an exception of chain rusting in some case.
Idle for small and medium boats
Is suitable for all weather condition
It's Con's
Not one of the very best anchor solution for your boat.
Low cost – Meaning you sacrifice for the quality of metal.
Not fit for large boats.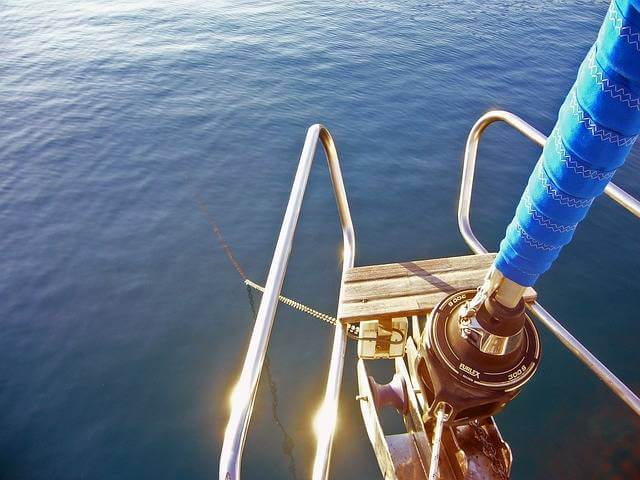 3 ) Best Kayak Anchor for Small Boats And Watercraft
Just as the mane suggest the "Best kayak anchor for boat and watercraft" is one of the leading anchor solution when comes to coastal vessels. With just 3.5 pound wight the galvanized rust free anchor is one of the finest quality of product you find for small boats. It's easy to store and take minimal space.
The product came with a grapnel type anchor the one with four hinged flukes. Its light weight and 40 meters anchor line ensures its easy to handle yet provide great results. These four hinged flukes can grab on to the any kind of surface whether be rocky, sand, weedy or mixture of sand and mud.
Unlike many other anchors where you have to compromise between the price and quality; its the one where you get the combination of both two. With its small size, compact design and light weight construction its idle for your rubber boats, kayak and other small boats in coastal or inland waters.
The user who get on this product will never had to find a replacement for next three years; as the company provide great customer service and followup calls for extended period of time. Something i don't generally see for low cost items.
Check Its Current Price On Amazon !
It's Pro's
Light weight and simple in design
Easy to store and use for anchoring.
Quality product for small boats need
Great holding power in rocky, weedy, sandy and mixed surfaces.
Came with a 40 feet anchor rope
Non corrosive
It's Con's
Not fit for all boat sizes ( Medium and Large Boats )
Relatively costlier than other option for the size
Does not hold well in pure muddy reason
Difficulty holding the vessel in very rough sea's.
4 ) The Fortress FX-7 4lb Standard Boat Anchor
The four pound aluminum alloy steel fortress FX-7 Standard boat anchor is one of the best boat anchor for small and medium boats; or as a secondary anchor in large boats. The anchor is of flute design which means it provide high holding power and the aluminum alloy ensures low a low weight.
This two key features make up for the high power to weight ratio for this anchor; something not so common with regular anchors. The company provide assured performance guaranty. Of which quality of the product is ensured following a high quality control, tests and acceptance of design modification.
Being a fluke type anchor with a low weight design ensures it fit well for all surface types from rocky to to muddy. The anchor is easy to dismantled and store when not required for a long time. While its not much heavy it can easily hold your bay, fishing or pleasure boats even in harsh windy condition.
Being made of the aluminum alloy it hardly rust in ten or more years in sea waters. For every 20 meters of depth you need to have four fold the depth of rope for the anchor. Moreover the adjustable fluke ensures you can modify its strength and design based on the need. A definite buy if you out for the comfort rather than the price.
Grab it now from your nearest Amazon Store !
It's Pro's
Adjustable fluke design
Easy to use and maintain
Light weight and powerful
Assured performance guaranty
Suitable for all water types
Hold your boat fixed in bad weather condition.
It's Con's
Does not came fully assembled
Is relatively costlier than other steel variant.
Need to buy additional rope for the anchor to function.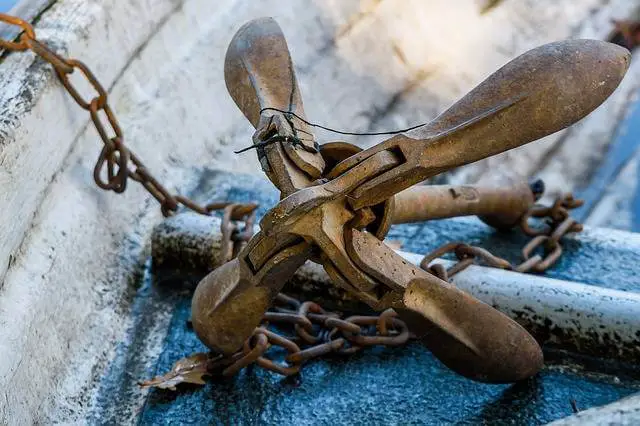 5 ) The Super Handy Complete Grapnel Anchor System
When its comes to anchoring sail boats, kayaks, personal watercraft and canoes there is no perfect anchor for the price; other than the super handy complete grapnel anchor system. Made of high strength steel it weights a little more than 3 pounds along with the 25 foot long nylon rope.
Unlike the many anchor design suitable for only one or few water types or sea floor. The folding fluke design in steel construction allows for a firm holding in any water type once dropped in the water. The complete assembly came with a stainless steel snap hook; inline buoy and a storage case.
This multi use anchor can be easily folded and stores in any of your boat compartment; making more of a something easy to maintain and manage. So much light and compact that even a 12 years girl can easily fit it into your storage compartment. So if you looking for something that just did its job and long lasting; its a great pick for the price.
The anchor is affordable and strong and certainly one of the best boat anchor for kayak and fishing needs; with no problem digging in. Don't hold yourself to my views and suggestion; check out and read the customer reviews live on Amazon from link Over Here.
It's Pro's
Durable and long lasting
High strength to weight ratio
Light and compact design
Fully folding design with 25 foot long Rope
Perfect for small boats, kayak and canoes
Affordable
It's Con's
Not suitable for large boats
Not fit for extreme conditions ( Rough seas and weather ).
Came with complete set i.e No Customization.
6 ) 20Lb Vinyl Coated Sea-sense Navy Anchor
Even with many new designs and light weigh anchors available many still believe on the traditional anchor design. These solid and heavy anchor with their weight and flukes dig in deep once released. With strong grip and great customization option there is no surprise its still one of the most used anchor design.
The 20Lb Se-sense anchor is that boat anchor that came with the oldish touch; with vinyl coating to protect it against environmental factors. The best part is even with the weight its still easy to store; even with limited storage area.
Unlike most anchor which are made up for a certain ground types or water these old school anchor are ready to go for all. You don't have to think of the water or whether its muddy, rocky or the weedy ground underneath; just release and secure its that's simple. These are basically the designs most used in large ship; but in larger size.
So the 20 Lb sea sense navy anchor an excellent product; a definite buy for a medium size boat such as the pontoon's. Overall its one of the very few anchor that still follow the old school technique; weight and flute design.
Check Current Price on Amazon !
It's Pro's
Follows traditional approach of weight and flute design
Strong and solid
Easy to store
Deep Grip ( Idle for all boat size )
Perfect for all water types
It's Con's
Heavy and solid
Old and Basic anchor Design
Not made for specific water or ground type.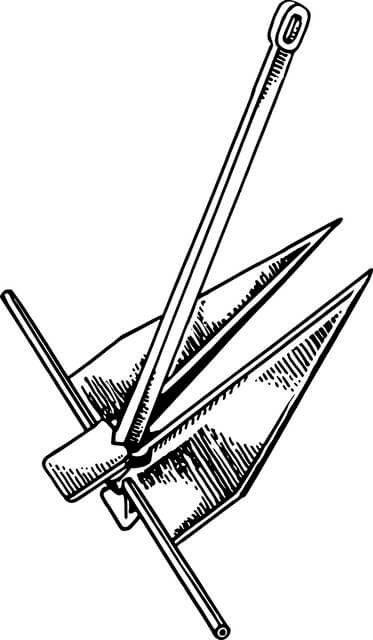 7 ) Best Boat Anchor For Price – The 74569 Sea-Sense Anchor
The 74569 Sea sense Anchor is equipped with state of the art slip ring technique; that means your boat will anchor deep in even with lighter anchor's. The 8 tonne design is tough and is made of galvanized steel making it suitable for all water's and boat size. While the anchor can be used in any water type they are generally preferred in sea waters.
The galvanized layer is smooth and great with the anchor available to the customer as good as promised by the manufacturer. While i must admit that i have never tried this specific anchor on my boat; but find it to be a great fit for fishing and recreational boats while my research. All 6 people whom i contacted to know their account / view on the product; seems to be satisfied.
The one even told me that he had used the anchor in 50 feet deep water under heavy wind; but still it kept his boat fixed to his position. Al thought its not one of the very best anchor available; but definitely the very best for low price, ease of use and maintenance free characteristics.
So if you looking for an anchor for an small boat or an secondary anchor in case of larger boats; its a great product to go for. Specially when you need to use your pontoon or fishing boat in lakes with muddy or sandy bottom. If you like to checkout more about the anchor; you can Get It Over Here on Amazon.
It's Pro's
Affordable
Galvanized anchor design
Can work for 6 to 50 feet deep water.
Perfect for small boats and pontoon
Light and strong
Unique Slip ring technology
Corrosion resistance
It's Con's
Not fit for inflatable boats.
Not meant for very rough use
A low cost product ( Good Quality but Not Premium )

How To Choose The Best Anchor For Your Boat – Buying Guide
I know by now you have already make up your mind for a pick or looking between the two. Whatever the case its wise to double check on your decision. After all its your hard earned cash you are going to spend on a boat anchor. Therefore you should know what to look for when deciding the best of the best.
An anchor as an rule perform best when its heavy, less reactive, have high holding power and of large size. But since all boats can't hold for very large anchors or all anchors don't have all of these property at the same time. You need to decide on whether your first priority is strength, ease of use or comfort.
1 ) Weight
As a thumb of rule the heavier your anchor gets its higher its holding power. So if you increase the weight of the anchor you get additional strength and better dig in; sacrificing on its ease of use. It's one of the major consideration when deciding whether it can be used for a larger boat or not.
So if you want an anchor which is easy to store yet have small size and greater holding power; consider buying one which have more weight. Similarly if the weight of the anchor is considerably lower than your boat size; its common to see some drag / movement under bad weather or downstream.
2 ) Metal Reactivity
Let's face it every metal reacts and corrode over time used or unused. The best anchor are those who needs to be placed in different in most salty to fresh water; yet does not affect its life. So we need to ensure the anchor we use are corrosion resistance for longer life. As the corrosion resistance is the property of reducing metals reactivity to its minimum limit.
The common method to reduce metal reactivity is by coating a non reactive metal over it or through the process of galvanization. Whatever may be the case it will ensure that your anchor remain protected against corrosive forces; even in salty waters.
3 ) It's Size
In general the bigger the anchor is the more will have the weight and holding power. Any anchor type which is considerably larger provide better anchor than a smaller one. So many anchor manufacturer works on bigger design to compensate for the lack of weight. You simply just can't have a big boat stay in place with an anchor which is small and light.
So if you want a smaller anchor design considering using a heavier one or choose an bigger size if you want something light and handy. But luckily it all depends on the shape and size of your boat. So consider just to make sure the anchor you choose is not too light and small at the same time; in comparison with your boat.
4 ) Ease of Use And Storage
It's one of the thing many skips to talk about. Having an strong anchor is important but having one easy to maintain and store is even wiser. While larger boats generally don't hold that luxury to choose; small and medium boats do. There are many option to choose from the light design to the one with foldable flukes.
No matter what you pick the aim should be it be easily stored on board when required; and be easy enough that your 12 year old daughter can use and handle it. I know i have no experience with kids even working on largest anchor on ship; so it's up to you to decide whats best for yourself and your family.
5 ) Type of Bottom / Bottom Condition
The conditions at the bottom of the lake can be different from bottom of the sea. Even different lakes and shores can have slightly different bottom conditions. The ability of anchors to hold depends much on the type of bottom condition it is suited for; otherwise you may not find the same grip and holding power when anchored.
Conventionally there are four main types of bottom types; rocky, Sandy, shale clay and mud. The one bottom type on which almost all anchor type work perfectly is the sand bottom. Fluke anchors works great for the sandy and mud bottom conditions; while strengthen heavy fluke anchors works great in all bottom condition except rocky ones.
For rocky bottoms the anchor that works the best are of the grapnel anchors. There are various good grapnel anchors available in the market to best suite the needs.
6 ) Holding Power
The holding power of an anchor depends largely on its weight and size. The heavier it is or the larger its size so will be its holding power. But there are also other factors that affects your anchor's holding power; for example: length of chain, weather condition and the types of bottom it is landing on.
For medium and large boats it is essential to buy or have an anchor with sufficient holding power. Otherwise you may find your boat drifting under strong winds. Make a wise decision based on your boat size and your needs whether be on lakes or at sea.
7 ) Anchor Material
A boat anchor can have anchor made of galvanized steel, aluminum or stainless steel. While it is great to have a galvanized steel anchor on boat; provided its the best in between the two. The aluminum anchors are lightweight and are thus cheap while anchor made from stainless steel are heavy and costly.
While having a too heavy anchor a good choice for large boats many recreational boats needs not more than a galvanized design. An aluminum design is well suited for much smaller boats who are looking for good strength and holding power; without sacrificing on passenger capacity by avoiding adding unnecessary weight to your boat.
My Final Verdict – What Would I Choose ?
After spending almost half a week researching, trying and taking other users account reaching out on mail, call and message; its obvious to find all the very best in some sense. Having an anchor is a must for all boats and watercraft; so much so that even the manufacturer provide you with a basic anchor.
But its not always in our best interest to stick to them as they are relatively weak and of smaller size. The 7 anchors listed above are the very best i found after going through a list of more than 40 anchors available. They all differ in shape, type and sizes being suitable for all boat types.
If i would have to pick one irrespective of its price i will always go for the "Manson galvanized supreme anchor". But since its costly and even i have to think twice before buying decision; the fortress FX-7 Standard boat anchor seems to be an obvious choice for me. An user can have different priorities than of mine so should look closely to the list before making the final call.
Also Read:
Do You Know We Write Post On Your Request?