Last Updated on April 22, 2022 by Amit Abhishek
When going for fishing it's essential you wear an inflatable life vest or kept any floatation device nearby. It's not just a good practice but helps keep you safe and feel secured.
For all time protection; it's important you wear your life vest and not kept it somewhere on the boat. What if the boat capsizes and you did not get time to wear a life vest? Do not think you are safe if you know how to swim.
Even the most experienced swimmers struggle in sea and rivers with heavy currents!
When it comes to recreational fishing or boating in general. The reason why most anglers prefer not to wear PFD or life vest; because they are very bulky and cumbersome. They might be excellent for water sports or rafting but are not that great when fishing.
This is where having an inflatable life vest came in handy and useful. The inflatable life vests are a kind of personal floatation device that inflates via air or gas.
The life jacket where you need to inflates them manually is cheap; while the ones that inflate automatically are a bit more expensive. An inflatable life vest is easy to wear, carry and can be worn all day without ever noticing it.
Finding the best inflatable lifevest for fishing was never too easy. We understand it can be hard sometimes to make a decision; especially when you have a myriad of options.
The sheer amount of products, models, colors, and variations can sometimes be overwhelming!
So we are here to help you make out your final decision. We have personally analyzed, reviewed and tested these life jackets and bring together in the form of this simple buying guide.
Top 10 Best Inflatable Life Vest To Consider In 2022
1 ) ABSOLUTE OUTDOOR Onyx Automatic/Manual Inflatable Life Jacket
This US coast guard approved life vest is an excellent PFD solution for anglers, kayakers, and people up for canoeing. It's low profile design and nylon construction makes it exceptionally lightweight and comfortable.
The neckline is made of soft neoprene fabric that is soft on your skin and provide an irritation-free experience. Further, it has a heavy-duty protective layer made of nylon fabric; that protects against wear, punctures and is durable enough to face harsh marine conditions.
Being both slim and light the Absolute Outdoor Onyx inflatable life jacket provides a tremendous range of motion and flexibility. It is so soft that you might forget you put your inflatable life vest on when going for fishing.
This inflatable life vest is among the most popular in the market and is so for a reason. There is no match to its quality, flexibility, slim design and feel at this price range and type. It is simply the perfect life vest for most anglers who like to feel safe and secure when out in waters.
The Absolute Outdoor Onyx life jacket features a dual inflation method. This means you can inflate it manually using the T-chord at its bottom or will self deploy once submerged in water.
Either way, you get an excellent buoyancy of 22.5 pounds in water once inflated. This means it keeps you safe and protected in waters.
Absolute Outdoor Onyx Inflatable Life Jacket: Check Price On Amazon!
2 ) Mustang Survival Corp M.I.T. 100 Auto Activation PFD
Known for its superb quality the mustang survival corp PFD is durable and light. Made of denier Cordura it is built for rough use and is both rip and puncture resistant.
The mustang survival corp M.I.T 100 is a US coast guard approved type three personal floatation device. With auto inflation feature, the vest self inflates within seconds of hitting the water. Not to mention you can still self inflate if required. It includes an oral inflation tube with inflation cord to inflate manually.
The vest is easy to wear, fits very well and is highly adjustable. It includes unique membrane inflation technology that makes it more flexible than a similar life vest.
Together with its light design and nylon backstrap, it becomes extremely comfortable to wear. While its buckle straps let you securely fastened without compensating on either comfort or your safety.
When inflated this life vest offers an excellent buoyancy of 26 lbs. Thus it offers 1.5 times more protection and is idle for anglers, kayakers, and most recreational boaters. In addition, it features a transparent window with an easy access flat to inspect and change CO2 inflater.
Overall they are absolute best in their category of lightweight inflatable life vest that performs well, is durable and looks good.
Mustang Survival Corp M.I.T. 100 PFD: Check Its Price On Amazon!
3 ) NRS Chinook Mesh Back Fishing PFD
Are you interested in wading, fly fishing, spin fishing or fishing from boat/kayak? This NRS Chinook PFD is built to cater to your specific needs. With multiple D-hooks, rod holder loops, coil tool retractor, and 7 front pockets it is made for anglers who do not like to carry too much to the water.
It comes with lower back mesh and eight adjustable points. This makes it breathable and extremely comfortable to wear.
If you are someone who likes to do fly-fishing; you will definitely appreciate this life jacket with all fishing accessories included. Although the vest is a little heavier than others mentioned here.
It does not feel bulky or cumbersome when sitting on a canoe, kayak or pontoon. Available in four different colors you can pick one that best suits your personality or match to your's boat color.
One thing that I like most about this life jacket is its comfort level. Being highly customed and utility vest; it's too good for the price and type. The fit is adjustable, the back is designed well for the kayak seats and the straps do not hold too tight or loose. The total net buoyancy of this life vest is 16 lbs.
Be it your fishing, canoeing, wading or kayaking the NRB Chinook Fishing PFD add up to your safety and convenience.
NRS Chinook Mesh Back Fishing PFD: Check Price On Amazon!
4 ) ABSOLUTE OUTDOOR Onyx Manual Inflatable Vest
Another great product from Absolute Outdoor Onyx that unlike its counterpart mentioned above can only be inflated manually. In addition, it features a backup option of oral inflation; just in case the CO2 inflater is empty or not working.
This ensures 100% protection under all condition and avoid accidental deployment of a life vest. For example, it will not auto-deploy if it accidentally falls into the water.
Available in two different colors it's both light and cheaper than its automatic counterpart.
The absolute outdoor onyx manual inflatable life vest is comfortable to wear. It offers great flexibility to ensure unrestricted free movements of arms. This life vest is Us coast guard approved and is idle for kayaking, fishing, canoeing, padding, etc.
The Onyx M-24 features a low profile design with a soft neoprene construction around the neck. this helps keep it cool and comfortable when wearing for long.
The protective outer layer is made of nylon fabric that ensures both wear and puncture-resistant properties.
The vest includes D-line accessory and feature in-sight that turns green when ready and red when not in use. With this, you get an upward buoyancy of 22.5 lbs; enough to keep you safe and stable in water.
ABSOLUTE OUTDOOR Onyx Manual Life Vest: Check Price On Amazon!
5 ) Eyson Slim Inflatable PFD Life Jacket
Yet another professional and reliable life jacket that looks stylish and comes in a wide range of colors. If you are not looking for something expensive but a quality life jacket in the budget; then this Eyson slim PFD can be for you. It is designed to self inflate within 3 seconds of being submerged in water.
If you are a recreational boater who does not look for a specific Us coast guard approved life jacket but safety; it is a professional choice with CE certification and SOLAS approved.
This inflatable life jacket features SOLAS approved reflectors, an oral tube, a whistle, and an inflater to self deploy. In addition, you can also manually deploy this life vest with the bottom string. Once deployed it will remain fully intact for the next 48 hours.
With a maximum weight capacity of 330 lbs, it has an excellent buoyant rating of 150N. Further having bright color and reflector plates it can be seen from a far distance; while the whistle helps in a rescue under low visibility conditions.
Made of neoprene neckline with a slender design it is lightweight and soft on your skin. It is so flexible and smooth that you won't notice wearing it for the day. While the heavy-duty ripstop fabric makes it durable, wear and puncture-proof.
Eyson Slim Inflatable PFD Life Jacket: Check Its Price On Amazon!
6 ) Mustang Survival Elite Inflatable PFD
If price is not your concern but mobility and comfort; this one is for you. Built for high performance it stays put during high speed, provides automatic inflation using hydrostatic Inflator Technology, optimum mobility, comfort, and safety both on the boat and on deck.
The dual side adjustment ensures an easy fit while its 3D chain reduces drag at high speed. This lifevest is idle for regular fishing, high-speed boating, watersports and professional working in port/deck.
Approved by US coast guard it has a net buoyancy of 28lbs when inflated. Further, the bright fluorescent cells improve its visibility in the water.
Unlike many other inflatable life jackets that auto-deploy under heavy rain. It needs underwater pressure to deploy which it only gets when submerged. So no more accidental deployment.
In addition, it includes a manual inflation handle; that allows you to deploy it anytime and prevents snags.
Made of lightweight fabric with a wide shoulder system; it is soft on your skin and eliminates neck fatigue. The wicked mesh system provides excellent comfort and allows better breathability.
Its unique design allows for greater mobility while the in tube side adjuster and buckles keep it in place. The Mustang Survival Elite Inflatable PFD is idle for an adult above 80lbs weight with 30" to 52" chest. Overall it's a good quality product that works as described, is safe and a little high on price.
Mustang Survival Elite Inflatable PFD: Check Price On Amazon!
7 ) Hyde Wingman Inflatable Life Jacket
If you are one who prefers not to wear a life jacket because they are cumbersome and bulky; its time to switch to hyde wingman inflatable life vest. The wingman is the world's thinnest hybrid life jacket designed for standup paddleboarding, sailing, kayaking, boating, fishing, swimming, and watersports.
It's low profile design and streamlined construction makes it comfortable to use and wear. This ultrathin profile allows for maximum mobility required for most watersports and fishing.
While the zipper back pockets provide additional space to store keys, phone, and other essentials. The hyde wingman is easy to wear and offers form-fitting. Just slide in, zip it and snap on your buckles. These EZ straps offer a custom fit adding to your comfort and safety.
The hyde wingman is a US coast guard approved life jacket with modular straps pack upfront to mount camera and accessories. When fully inflated it offers an excellent buoyancy of 23lbs.
It is one of few lifevests with its inflating CO2 cylinder located at the users back. This can then be triggered with a convenient over the shoulder ripcord for quick deployment. The wicked mesh system ensures water and airflow through these vents. These make it breathe when dry and light in water.
Some of the key features of this life jacket are; oral inflation tube, hydration bladder sleeve, hydration channel on shoulder to satisfy your thirst and load-bearing skeleton. It's a little too expensive than others but worth its price in terms of its durability, features, and comfort.
Hyde Wingman Inflatable Life Jacket: Check Its Price On Amazon!
8 ) SALVS Automatic/Manual Inflatable Life Jacket
With simple design and attractive price tag, this product is the best choice for anglers in budget. This automatic life jacket offers a wide range of motion. Made with nylon fabric the jacket is lightweight and durable with a traditional design.
The SALVS automatic/manual inflatable life vest is available in two colors; blue and black. It weight under a pound and is CE certified. Once inflated it offers an upward buoyancy of 21 lbs.
The life jacket will self inflate when submerged underwater for 5 seconds. Further, you can deploy it manually anytime you want by using the T-chord at its bottom. Once deployed it remain fully intact for the next 48 hours. Once deployed it turns into bright color offering better visibility in water.
The vest rests easy on your shoulder while the soft neoprene neckline makes it comfortable and allows you to wear it all day. Suitable for adults above 80 lbs of weight its more than idle for your daily fishing needs.
The package includes a whistle, reflection bands, a carbon dioxide cylinder, oral tube, SALVS inflation device, and a waterproof travel bag. The life vest is pretty solid and is made to last long ( wear and puncture-resistant ).
Overall it's a decent product offering maximum protection and comfort at least price. Not to mention its unexpected quick and responsive customer service.
SALVS Automatic/Manual Inflatable Life Jacket: Check Price On Amazon!
9 ) Eyson Inflatable Life Jacket Life Vest Basic Manual
Basic but effective this life vest is slim and has a minimalistic design to offer a full range of body motion. Tailor-made to cater fishing needs its another effective life jacket for anglers in the budget.
The EYSON inflatable life jacket is CE certified and is SOLAS approved. Like many other life vests, it includes a soft neoprene neckline and waist straps for a custom fit. The vest is inflated by triggering the CO2 cylinder by using a pull cord at the bottom of this life vest.
Equipped with a rescue strap and backup oral inflater it offers adequate safety and peace of mind. The life jacket fits well and is so flexible you can move your arms freely even when deployed.
Once inflated it provide 150N of buoyancy; enough to keep your head, neck, and shoulder out of water. This inflatable life vest is idle for flatwater paddlers, anglers, recreational boaters, and kayakers.
The outer cover is made of durable polyester material that makes it waterproof, puncture-proof, washable and easy to dry.
Once deployed the reflective accent provides better visibility while the attached whistle help with rescue in low visibility. Available in six different colors of grey, red, black, blue, yellow and green camouflage it looks good and suits your personal style.
Eyson Inflatable Life Jacket Basic Manual: Check Its Price On Amazon!
10 ) Premium Automatic/Manual Inflatable Life Jacket
Who does not love auto inflating life vest? But the problem is most of them are expensive. The premium inflatable life vest is cheap and can self inflates when in water and can also be manually inflated.
It is a standard type 5 life jacket certified by CE and approved by SOLAS. Its 3M reflectors are visible even in nights and can be seen from large distance. Made only from the most soft and durable material ( a mix of nylon, neoprene, polyester, TPU ); its light, comfortable and is wear-resistant.
It is easy to put on, is comfortable to wear even in hot weather and the adjustable belt makes it a great fit for all ages and sex. On the downside when inflated it feels a little small/tight around your neck.
The buoyancy is enough to keep your face out of the water and remain intact for the next 48 hours. Unlike many other life vests here you need to pull with a jerk for manual inflation.
The package includes an inflatable life vest, one whistle, two oral tubes, a water sensitive automatic inflation device, two reflector bands, and a cylinder cartridge. Due to high sensitivity, this might get auto-deploy in heavy rain.
Premium Auto/Manual Inflatable Life Jacket: Check Price On Amazon!
How To Choose The Best Inflatable Life Vest
When you are buying a new life jacket for fishing one should always keep a few things in his or her mind. To make an educated decision it is important to know and ask what is your need?
Anglers fishing at sea can have different needs than anglers fishing in lakes or rivers.
Similarly, a particular life vest can work well for fishing from a kayak than from a boat. So different models are available in the market to meet specific needs.
Does it self inflate in water?, Is it washable?, Does it fit well for a big person, Will it deploy in rain?, Buoyancy?, Is it Us coast guard approved?, How fast will it inflate?, Are these light and comfortable? etc. These are some important questions you should ask to yourself; before making any final decision.
We have thus reviewed and listed the above products based on these parameters. I personally research and tested each Inflatable Life Vest on each parameter and ranked accordingly.
Since they are some of the basic necessities of any modern life jacket; we also look at additional aspects such as its price, ability to hold accessories, durability, and ability to breathe before making our final list.
Our first priority while preparing the above list was its features then certification, ease of use, comfort, durability, Cost, mobility ( range of arm motion ), buoyancy, modes of operation ( auto/manual ), weight, fitting, color options followed by all other aspects of an inflatable life vest. Overall I have came up with a list well suited for all; anglers with kayaks, to large boats and even used for commercial activity.
Frequently Asked Questions?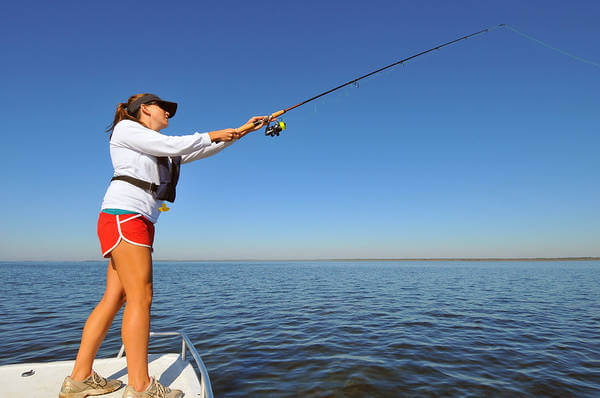 Q.1. How does inflatable life vest work?
Ans: While traditional life jackets relly upon foam to provide buoyancy; these inflatable life jackets relly upon their CO2 cylinders. The inflatable life vest can also be classified into the following two types; self-inflating and manual inflation type.
In manual inflation type when the chord is pulled it trigger the CO2 cylinder located within to release gas thus deploying a life jacket. The self-inflating type automatically inflates once it came in contact with the water. This can be done in the following two ways; using a dissolving tablet or a pressure gauge to trigger.
In the first type when the life jacket came in contact with the water; the small tablet dissolved triggering the release of CO2. In the second type, it happens when the desired pressure is reached. Ideally, it happens 4 inches below the water level. Further, they also include a manual inflation method for safety and ease.
Q.2. Are inflatable life vest safe?
Ans: Just like many other life vests an inflatable life vest has to be certified by concerned authority for safety and standards. To get these certificates they had to undergo vigorous testing and trials before mass production. In case there is any change or update in design or material used; they must undergo the same process again.
While all inflatable life vest are somewhat equal in terms of design and functionality. Only Us coast guard approved life vest are considered to be the most safe and effective. This is because of their higher standards and stricter approval policy.
Most inflatable life vests that you would usually see are often US coast guard approved; but many are not especially at a lower price range. Further, they need to be looked upon in terms of their type ( 1,2 or 5 ). Since inflatable life jacket either need to be manually inflated or it self inflate within 3-5 seconds of first contact with water.
It is not recommended for nonswimmers and children below the age of 16.
Q.3. How long does an inflatable life jacket last?
Ans: While there is no limit on how long will an inflatable life jacket lasts; they typically remain intact once inflated for the next 48 hours. Thereafter they start to lose gas and so does the upward buoyancy. That is the reason why in many rescue efforts they give up after 3-4 days of continuous searching.
Your survival rate increase drastically if you conserving energy and water temperature is above 26 degrees. If not used an inflatable life jacket can last for 8 to 10 years with periodic inspection in a period of not more than a year or two. Before you head into the water make sure your life jacket is well inspected and ready for use.
Q.4. Can inflatable life jackets be reused?
Ans: Inflatable life jackets can last for years without use. But what if it's been deployed once? Do you just throw them away or they can be easily reused? The answer is every inflatable life jacket is designed for multiple use, but need to do a little few things before its ready for use. The most important thing of all is to replace the CO2 cylinders.
Before you start to repack make sure it's dry and clean. Second, get yourself an identical or same cylinder and an automatic inflation device ( for auto inflation life vest ). Many a time you will get these in spare with the life jacket itself. Now squeeze the air out of it by pushing the one-way valve fitted on to the oral inflation tube.
Once set put the cap back on and lay the jacket flat on the surface. Insert the cylinder and automatic inflation device to check for the feedback. There are different feedback mechanisms for different life vests; so check your manual. Ideally, it will show green if it's correctly inserted. Then gently fold your jacket and tuck into the upper cover and do the velcro. Make sure while tucking in you fold it with no twist.
Also Read:
Do You Know We Write Post On Your Request?