Last Updated on August 4, 2020 by Amit Abhishek
Every boat which went to waters must have boat accessories onboard stocked and ready for use. Irrespective of the boat types they all should have essential boating accessories like; basic first aid kit, personal floating device, VHF radio, essential documents and an anchor to secure your boat in need.
I know how much you love your boat but I want you to be proud of it. It's only possible when you make your boating experience more fun and easy. It's time to personalize your boats with these cool gadgets to your needs and comfort. In fact, we all look for those cool gadgets but just don't know where to find them.
So to come at boat parts and accessories with a practical angle we dig deep researching for days; before finalizing our list of 15 cool gadgets for your boat. Whether you are the one who uses his or her boat for fishing, water sports, day cruising, spending family time or just towing; I got something for you to make you happy.
15 Cool Boat Gadgets You Wish You Have That Before
1 ) Handheld Wind Speed Meter
Measuring wind speed is a crucial aspect of professional and recreational boating. Even the most novice or beginner tends to pay attention to weather condition before landing on the boat. The truth is strong winds and clouds are what a sailor mostly worry about; as it changes quite fast out at sea or in large water lakes.
Ideally, the best wind speed to sail or cruise on a motorboat is 10 miles per hour. Most small boats can handle wind speed as high as 30 miles an hour; but at that condition, you are already out of your comfort zone and so not advised to continue. Out in water its the wind which indicates first of the coming storm.
At sea or in large lakes the moment you observe a gradual increase in wind speed over an hour. Its time to analyses whether its safe enough or its time to went back home. This is when having a handheld wind speed meter came handy taking the required readings; and then comparing them with safe limit provided by the boat manufacturer.
Recommended: HOLDPEAK 866B Digital Anemometer ( Check Price On Amazon )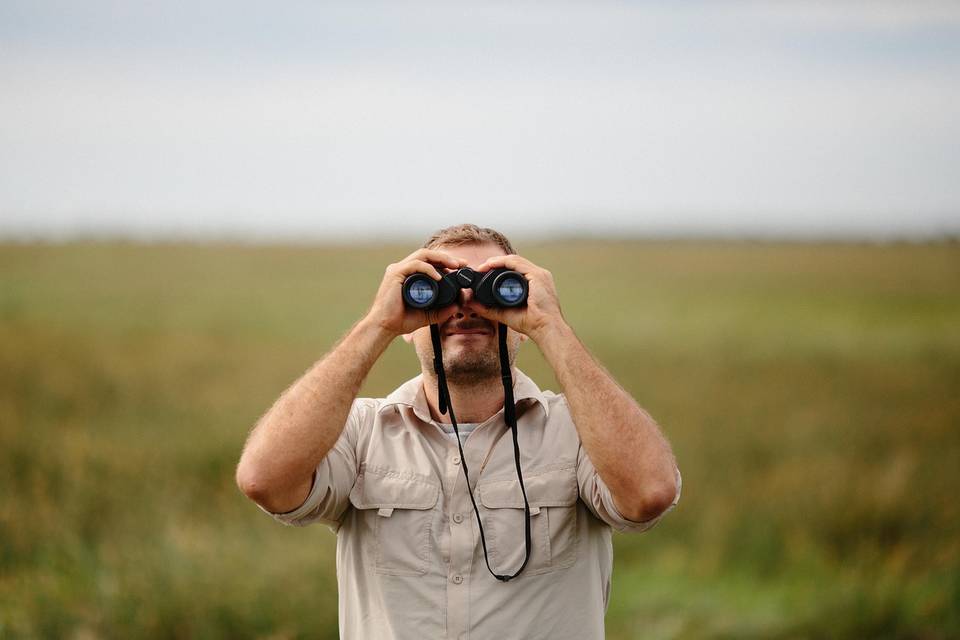 2 ) Marine Binoculars
Binoculars are like a friend to most sailors and almost all crew situated in the bridge of the ship including chief officer and captain. While working on ship its obvious to have marine binoculars to observe other ships and boats in the vicinity. Somewhat same approach applies to boats with an added need to enjoy nature's beauty.
Traditionally 7×50 binoculars are been used for marine purposes whether be on a boat or on large ships. Here the first letter "7" indicates the magnifying power of the lenses; while the "50" indicates lens diameter. The more be its magnifying power the larger will be the lens diameter to compensate for the brightness compensation.
If you are fond of looking around at other vessels and birds while on the boat its will be a perfect gadget for you. While I don't want to say; but keep it in the boat while with family so kids can enjoy on themselves looking through the binoculars. That's basically what I do with kids when I don't want them to disturb while fishing on the boat.
Recommended: Hooway 7×50 Waterproof Marine Binoculars ( Check Price On Amazon )
3 ) Anti-Fatigue Helm Station Pads
Standing all day at the helm can be troublesome for many people provided you have to been offshore hitting the waves. Your body is under constant jerk and pressure from bottom fiberglass deck; and your knees are forced to do all the cushioning for you. While it may be okay for just one or two days but not for a long run; especially when you care about your knees.
So it's natural to install 12-15 mm thick helm pad where you stand to provide adequate cushioning and support to your legs. What it actually does is to absorb most of the jerk arose while hitting on the waves. These mat like pads are not like any other pad in the market; they are specially designed and tested to withstand harsh maritime conditions.
These helm station pads are easy to install, simple to clean and long lasting. Having Closed cell EVA foam structure it provide same traction and cushioning with or without shoes. So use "SeaDek" helm pads for greater support and cushioning for your feet rather than discomfort standing long on fiber grass.
Recommended: SeaDek Anti-fatigue helm station pads ( Check Price On Amazon )
4 ) A Dog Boat Ladder
If you are a dog lover like me, you won't want your four legged friend be left out at home. After all they are such a good company on boat and helps develop bond between the two. As an owner we all wish our dog to just get on and off the boat on a whistle; but no matter how much he be trained its always a hard time without a dog ladder.
I have personally been into situations where i had to get in waters just to push him ( My Dog ) out onboard; do you know how much a wet dog weights? Its daunting and some times frustrating; so its always wiser do have a dog ladder which you can attach to your boat or even your car any time with ease.
A high quality dog boat ladder as the "PetSafe Solvit Deluxe Telescoping Pet Ramp" can handle dogs up to 400lb of weight. They are easy to mount on cars back as much as on any boat letting your pet feel safe using it. The best part of having one of these on boat is that; you can let your dog in water as many time as he wants and still came back home with no back issues.
Recommended: PetSafe Solvit Deluxe Telescoping Pet Ramp ( Check Price On Amazon )
5 ) Waterproof Dry Box
Being on water means constant attack on any exposed area from humidity and rust. While your boat is specially designed for harsh marine conditions; many of the tools you carry just not. So unless you keep all your tools and unused accessories in a waterproof dry box they might not last as long as expected.
Once aboard you don't want to pay attention to ensure safety of your portable gadgets, keys and electronic accessories. While it may or may not be the best way but i personally use my waterproof dry box to keep it all there. So when i have to leave in a hurry i don't have to look around for all my gigs.
You can use it on and off board your boat to store small tools, flashlight, wallet, keys, phone batteries, charger. While its not meant for that purpose i personally used it once for ice fishing. So its one of the necessity on board we usually ignore till its too late; specially when you like things prearranged in its order just like me.
Recommended: Plano Extra Large Dry Storage Box with Tray ( Check Price On Amazon )

6 ) Marine Water hats For Sailors
If you are a man who spend most of his time fishing or sailing under the sun; you probably know the importance of having a shed or protection from sun. For a safe sailing you need to keep sun out of your eyesight at least till its not the last hour before sunset. So its not a big deal that many just use one or another form of hat while on boat.
But do you know not all hats, provide the same protection against the sun? There are just plenty of cheap solutions out there; which are not designed specially for boating needs and does not provides that much protection. So having a sailing hat with wide brim is perfect for all boating needs; protecting your face, eyes and neck while still allowing a clear vision.
An idle marine hat is the one with the wide brim, white up top with darker colour under the brim. They should be made from sweat wicking fabric and must have adjustable chin cord. Furthermore they must be waterproof and trendy so you don't have to worry much about anything apart from fishing while on boat.
Recommended: LETHMIK Outdoor Waterproof Boonie Hat ( Check Price On Amazon )
7 ) Spill Proof Pets Water Bowl
Would you drink any other water without knowing is it safe for drinking? I guess not then why are you letting your dog drink water from lake or sea while on boat. So far i have seen people who don't let their pets drink any water once aboard and also those who just let their pets drink water from sea or lakes to satisfy their thirst.
Don't let your your pets drink that water as many a times they are not suitable for drinking and even hazardous to health. It can lead to minor issues from hair fall, minor disease to waking of your pet bones. This is when a spill proof pets water dish came handy; as i guess no one wants slobbery puddles on his or her deck.
I personally use the "UPSKY Dog Water Bowl" which have this adjustable floating disk; that prevent water being spilled along with the saliva. The disk adjust by itself so your dog will drink slowly preventing him to spill it all around. Its easy to setup, does not tilt or slip even when you are cruising fast, hitting hard on water.
Recommended: UPSKY Non Slip Dog Water Bowl ( Check Price On Amazon )
8 ) A Charging Power Bank
I love my mobile so much so i can't go anywhere without it. If its not be all its features and apps to assist i would have been struggling to do anything solid. But the problem i had faced many a times on boat was that; the moment i start to find something interesting to take a snap on there was a low battery alert.
I know you must have faced the same on different occasions specially when you make a plan for a complete day. There were days when i desperately want to take selfie or a click of an fellow boater but just can't. You might won't know but your low battery can hold you from capturing some of the best moments of your life.
It takes me quite time to realize the need of having a powerful charging power bank that can take care of all my power needs. The good news is, today i can recharge my mobile, go-pro and even my iPad anywhere anytime while still on boat. Thanks to it I no longer have to worry of those low battery alerts anymore.
Recommended: Anker PowerCore 20100mAh Portable Charger ( Check Price On Amazon )
9 ) Waterproof Dry Bags
While on most days you will be just fine with any other plastic bags or even garbage bag for loading and unloading stuff to and from the boat. But the moment you start to add adventure, speed or more time in water; you will realize how easily your stuff get wet in those plastic bags in no time at just 20 knots.
So if you wants to go for adventurous ride camping or even sailing at full head ( Full speed ); you need a waterproof dry bag on boat for sure. If not you will be only to blame yourself for the consequences; I know how it feels and don't want you to go though the same. It will do exactly what its been made to keep all your stuff organized, safe and dry.
Made from thick waterproof vinyl fabric they are strong, sturdy and yet light weight. Even more they can be reinforced from the top folding it over to two or three folds on top of it. This allows for a good seal ability meaning you can enjoy yourself knowing all your belongings are safe in one place.
Recommended: Earth Pak -Waterproof Dry Bag ( Check Price On Amazon )

10 ) A Multi Tool Kit
A multi tool has outgrown so far than its predecessor Swiss army knife both in application and sturdiness. Not just its handy but also sophisticated tool for everyday use. These days whether you on boat, home or on vacation in some other country its a must concerning; you can not find tools within your reach all the time.
The reason these are so useful as the product is its ability to fill the need of different tools in a wide variety of different solutions. I keep one always with me just in case i forget to take appropriate tools to the place; as being a mariner i know how important tools are in a life of a sailor specially the knife we all use to cut length of a line.
A combination of tools like a good functional knife, a bottle opener, shackle opener or key, pliers, screw driver and adjustable spanner makes any multi tool kit a perfect choice for maritime need. But i know like me you might use it more at home than on boat at any given time. So make your life more comfortable with a small multi tool always in your pocket.
Recommended: Gerber MP600 Multi-Plier ( Check Price On Amazon )
11 ) Wireless Waterproof Speakers
Take your favorite songs wherever your go, without worrying of splashing water or any battery backup. Modern wireless water speakers are not just portable but also sync easily with our mobile phones via Bluetooth. So don't let yourself hold you from entertainment on your boat while recreational activities, family trips and fishing.
The JBL Charge 3 portable Bluetooth speaker can connect to your iPhone, iPad, Samsung Galaxy and more for full on entertainment. Equipped with 22.2mh Lithium-ion battery you don't have to think about connecting it to the charger for the next 20-24 hours. Thanks to its noise cancelling speakers you can take on your calls with sensible sound quality.
Carry it with yourself to boat or pontoon and let your favorite sound tracks play. Play it anywhere anytime to ease your mind; but i believe you would just love it when with kids and family. As having a wireless speaker on boat helps develop a connect between the two; letting them just themselves with all the goodness and fun.
Recommended: JBL Charge 3 portable Bluetooth Speaker ( Check Price On Amazon )
12 ) Anti-Sickness Wristband
Let's face it, we all hate being in a group where ourself or someone else having motion sickness. Its nothing new as one out of every three person suffers from motion sickness of some short. It really become absurd when it mix with sea sickness to make you feel grounded ruining much of plan for the day.
I have seen people feeling sea sick withing minutes the boat starts to pitch on waters. Its nothing odd or something to be ashamed of; as even i have been in such situation once or twice in my lifetime. You may try sitting in front, using pressure bands or taking medication but nothing works that well or have some side effects.
So i keep with me this "EmeTerm Motion Sickness Wristband" that helps prevent nausea and vomiting. Its rechargeable, easy to use and clinically proven for quick results with no side effects. The best thing about this band is that it looks much like a smart watch and waterproof, a must have for any boating need.
Recommended: EmeTerm Motion Sickness Wristband ( Check Price On Amazon )

13 ) A Perfect Size Tumbler
Every boat deserve a shatterproof drinkware as you are not just there for fishing and water sport. As man and women we all need refreshing drinks at times; be it fruit juice, soda, coffee or just plain water. Of course you will take water bottles or soda can's but you may still need a tumbler for ease of convenience.
There are plenty of tumbler options available in the market from plastic cups, stemware and steel tumbler. Many of them even have graffiti printed on them. Of all available option i personally use vacuum insulated steel tumbler from "yeti"; as its nice looking and keeps my coffee hot for the next 5 hours.
These yeti tumblers are just good to for any serious adventure and can fit easy with most cup holders and bar caddy. Made with strong durable materials it lasts long and came with super cool design options to choose from. Its easier to clean and dishwasher safe, meaning its just the perfect choice for drinks on the go.
Recommended: YETI Vacuum Insulated Steel Tumbler ( Check Price On Amazon )
14 ) Easy To Use Boat Grill
We all love barbecue specially the grilled fish when you can cook out in the open water right on your boat. Its never that hard to setup portable marine grill on boats; specially with modern easy to setup accessories. You can cook all matter of foods on boat on such small grill that don't cost that much to setup.
Believe me for long i had managed with cold food options that i carry from home and know how much better it feels to eat something hot and freshly prepared. Also, having a grill installed on boat lets you host parties and get-together without worrying of charring food stores. Just turn on the regulator and start cooking, anytime anywhere!
The best thing about these marine boat grills is that; they can be mounted just like the fishing rod hanging off the side much away from the passengers. The grill have a propane burner which provide adequate heat to cook food against the wind we usually find on boats. Even more, its just easy to clean and maintain without much need of instructions.
Recommended: Magma Marine Kettle Gas Grill ( Check Price On Amazon )
15 ) Towable Tubes For Boats
Children's love adventures even more than yours so much so they won't hesitate going far from safety. As responsible parents we want our kids to take calculative risks but not blindly. So make your family boating experience more fun add tubes on your boat for more adventures and playful.
Made for an airy ride its robust and stable with dedicated cockpits. The knuckle pads helps secure your hand feeling a bit secure at time it feels scary for some. Its so stable and robust even you can ride on them for hours without any impact on the tube. This makes it much less physically demanding as a non swimmer will also like to try.
Recommended: AIRHEAD VIPER ( Check Price On Amazon )
Also Read:
Do You Know We Write Post On Your Request?