Last Updated on April 22, 2022 by Amit Abhishek
Boat fenders are a critical instrument onboard that helps protect your boat from damage. Together these boat fenders act as the bumper in between your boat and the docking station. Designed to protect dents and dings on the vessel it acts as the barrier between your boat and the surrounding.
Controlling a boat is always tricky and needs some skill to properly secure at the dock or with another boat or ship. The slightest of error can make your boat uncontrolled; causing damage due to contact or an impact. If you own a boat, you must know how expensive these repairs get especially when they are subsequent after the damage.
So its always better safe than sorry with your boat fenders! It helps you protect from any damage due to contact with the docking station, another boat or pilling. Available in different shapes and sizes, they're the go-to solution to keep your boat in tip-top condition seasons after seasons.
Being a boater we believe you love your boat just the same as we do. It's obvious you don't want a scratch on your boat paint and understand the need to buy a boat fender. Luckily, they aren't so expensive and are available in a variety of shapes, sizes, and designs; to suit every boater's needs.
We have independently chosen to research and try some of these fenders to finally came with the recommended list for yourself. We have selected only the best product to choose you from the list below. For your help, we have also come up with an intensive buying guide at the end to help you make a better buying decision.
Top 10 Best Boat Fenders in 2022 Worth Trying
1 ) Polyform HTM Series Boat Fenders
Designed and manufactured in the US, this polymer HTM series offenders was a clear winner in our list. Known for its unique design and durability; it's versatile and built with molded ribbing and reinforced ends. This means you can use them in either way; horizontally or vertically.
This fender type is recommended for boats which are 20 to 50 ft in length. Available in four different distinct sizes there is always one that's perfect for your boat. For example, the HTM-1 is suited well for boats in between 20 to 30 ft length. Similarly, HTM-2 and HTM-3 are for 30 to 40; while HTM-4 is suited well for boats in between 30 and 50 ft length.
Made of the pre-inflated cylinder it has a Polyform inflation valve to adjust inside pressure. Designed for multi-purpose use it's durable, though and has thick walls; that perform much better while the mooring operations. It's possibly one of the best boat fenders when it comes to medium and large boats.
The brand polymer has also made it's fender series easy to pick and understand. They are properly categorized and provide appropriate sizing and usage chart with each product. Moreover, they are easy to clean, inflatable, leave no marks at the hull and last longer. The best part is you can easily find accessories like cover and bow rack for these types.
Polyform HTM Series Boat Fenders – Check its Current Price On Amazon!
2 ) Ribbed Twin Eyes Boat Fender Pack
Here we have a pack of four high-quality fenders made of marine-grade vinyl. It just perfect for those who need added protection for their boat; or save some cash on them buying in a set. The vinyl construction makes it resistant to UV radiations while its reinforced thick wall with ribbed design adds up to its durability, strength and overall stability.
Available in four different sizes and color options its perfect for your 20 ft pontoon, a caddy, a center console boar or even a yacht. Available in 4.5*16 inch for 10 -15 ft longboat, 5.5*20 inch for 15-20 ft, 6.5*23 inch for 20-25, and 8.5*27 inch for 25-30 ft longboat. But they all came with the same line in a pack with the diameter of 3/8″.
Buying a complete set also ensures you do not have to invest separately in buying a pump; for inflating and deflating these marine boat fenders. From nylon lines to four boat fenders it has everything here in one set; that you would ever need to protect your or any boat.
Also, it has posses reinforced rope holes on both ends with the easy valving system. This ensures you can easily adjust its firmness or simply use it upside down, horizontally or vertically as per your wish. The surface is non-abrasive that helps you maintain the shine of your boat hull and can be used anywhere on the boat.
Ribbed Twin Eyes Boat Fender Pack – Check Price On Amazon!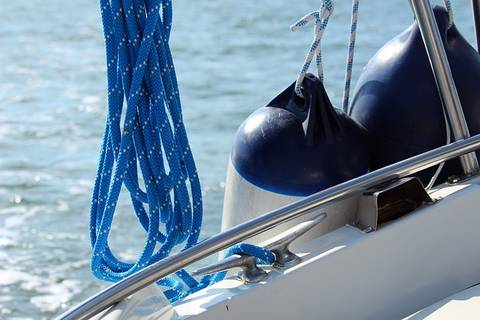 3 ) Polyform F Series Boat Fenders
You can really protect your boat against the most intense impacts with this fender type. Made in USA these polyform fenders are known for their versatility and heavy-duty application under most challenging conditions. A very useful feature of this is the ability to easily inflate and deflate using a hand pump.
Overall its quite effective and can be easily stored into the floor locker of most boat types. You get this fender in a wide range of sizes; F-1 | 6 x 24 in to F-13 | 29 x 76.5 inch in size. The F-1 Size fenders is 24 in tall and 6 inch in diameter with a 0.7 in. ropehold eye diameter. Thus the F-1 to F-3 size is best suited for any boat in between 20-30 feet length.
Overall we found it to be the best fender option for experienced and professional mariners. It is easy to install and comes with a three-year limited warranty from the manufacturer. Unlike other popular fenders that deflate a little over time, it remains more or less the same thus does not need to worry about adding pressure on a frequent interval.
Also, the length is fair enough to protect your boat irrespective of the dock height. Made of very thick material it does not wear over time or burst under pressure from a sharp object. For most boaters like me, it goes just fine over the years thus being your first and last investment on boat fenders.
Polyform F Series Boat Fenders – Check Its Price On Amazon!
4 ) BABz Boat Fender Bumper
If you are looking for a fender that is super easy to inflate and then quickly deflate for the store; this the one you should really go with. Made with a soft plastic blend, it's quite thick and durable with a reinforced thick handle. The BABz boat fender is high quality and designed to last longer.
Its plug design allows one to easily inflate with his or her own lung or use any standard 12v pump. Having adjustable inflation levels from 20 to 24 inches; it's always a perfect fit for your boat type. It's easy to handle, does not markup your boat and can also be used for recreational activity. Just inflate it to its maximum size and let the kids play with it!
You can literally inflate them in seconds using a standard pump and keep them between the boats at the dock. Believe me, you won't ever have any issue with boats touching. It is just the right thing you need to feel safe in rough waters and holds up well just like the 150 or 100 dollar fender.
Being a fantastic round fender you can either used it as the mooring buoy or as your anchor marker. By the way, it is by far the best marine fender for boats and watercraft at a reasonable price. Overall it is a rugged design ready to be taken by your first and last fender for the boat.
BABz Boat Fender Bumper – Check Its Price On Amazon!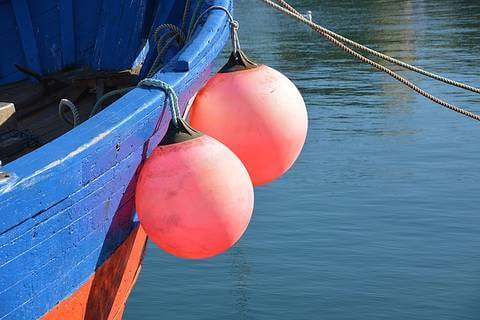 5 ) Polyform A-Series Buoy
The brand polyform is known for its versatility, strength, and durability. This A-series buoy is just another product in that line ready to protect your boat in the most challenging situations. Made as a single-piece structure it's heavy-duty, flexible and has added strength. These all make it a go-to option when comes to round fenders.
Round fenders are really great when it comes to protecting large boats and heavy-duty applications. Furthermore, it uses a unique valve system that is both reliable and easy to use. Thus making it a perfect fender option for unprotected moorings with reinforced rope holds for superior durability.
Other than protecting your vessel from damage due to contact at docks or during mooring operation. It is also widely used as a marker for the anchor position. When used as a fender its six different sizes ensure it fits any boat ranging up to 60 feet in length. Size 0 is for boats up to 20 feet while size 5 is for boats 60 feet in length.
Unfortunately, it came in deflated and you need to inflate it before use. You can either use a special Polyform inflation adapter or an electric air pump to do the job. The interesting thing about this product is that you can also use it as a punching bag. All you have to do is to fill it with water using a water hose adapter.
The Polyform A-Series Buoy – Check Price On Amazon!
6 ) Extreme Max Boat Fenders – 2 in One Pack
The extreme max boat fender is a unique boat tector designed to last longer. Made from high-quality U.V resistant material it's thick and has a ribbed design. This ensures they are very durable and performs well even in most harsh conditions. Furthermore, its attractive look adds to your boat's style and beauty.
This product can easily tackle the harsh conditions at sea; sun, winds, salts, water and strong chemicals. But unfortunately, it fades its shine a little overtime. Luckily it still looks more or less the same and performs just well seasons after seasons. In the package, you will receive two 6" (diameter) x 22" (length) fenders.
Thus making it suitable for most common boat types used for recreational purposes. The reinforced eyelet at each end is molded in a way to protect the fender from ripping apart. The best part is you also get two fender lines, quite durable and 3/8" x 5" in dimension. Made from multifilament polypropylene these lines are quite flexible and do not kink.
The fender is inflatable and comes with a needle valve to inflate or deflate to the desired pressure. The price is quite fair and you will also get a two-year warranty to replace it any time if dissatisfied. For a smaller vessel that measures under 25 feet in length, this pair might be just enough for your boating needs.
Extreme Max Boat Fenders – Check Its Price On Amazon!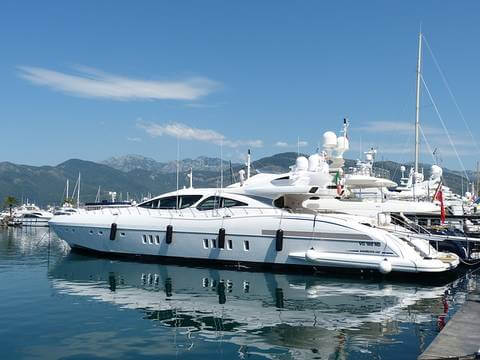 7 ) Vinyl Ribbed Marine Boat Fender
If you are looking to buy fenders in pair the VIVOHOME Vinyl Ribbed Marine Boat Fender is a smart choice for you. It came in with a set of four 6.5"x24"/8.5"x27" fenders. That also includes a 4-pack of 5.2′ rope with 3/8" diameter, 4 inflating needles and an air pump to inflate or add pressure.
Made from marine-grade vinyl it is an exceptional product that can withstand harsh conditions without deterioration. The design is seamless and evenly thick with reinforced eyelet holes. This not just makes it durable but also sturdy and versatile. Thus are fit for the harsh condition at sea.
The added protective layer on top makes it corrosion resistant and protect against U.V radiation. Thanks to this high gloss cover, there will be no scratch whatsoever on your boat hull. Ideal for nearly all boat types in between 15 to 30 feet long; it is quite easy to take off or install with lines vertically or horizontally.
Overall it's a decent fender for everyday boating use with added buffer protection. This means it is capable to withstand and keeps your boat safe against the strongest impact with the dock. Plush the ribbed surface ensures it does not roll over during collision; thus always exercising its full potential.
Vinyl Ribbed Marine Boat Fender – Check Price On Amazon!
8 ) Norestar Set of 4 Center Hole Boat Fenders
If you have a pretty large boat and worry about the gel coating; it is worth investing some money in some high-quality stuff. I personally don't spend much but its sometimes worth spending. Build to protect medium and large boats it's effective and does not scratch gel coat as some cheap fenders do.
Unlike all other fenders discussed above it works better when horizontally mounted. In the package, you receive four high-quality fenders to fully protect your vessel under all conditions. These air-filled bumpers, when placed alongside your boat, provides essential protection while at the docks or while rafting.
Now, safeguard your boat with a trustworthy brand not just capable of withstanding large impact force; but also provide excellent customer support and help when needed. Remember, a boat fender came in real cheap but a boat does not and even the slightest of repair cost a fortune.
Available in two size options of ( 8″ x 20″ ) and ( 10″ x 25″ ); its gonna be the perfect companion for your boats. Made from marine grade material these are specifically tested before they leave the factory. Thus are by far the best available fender type at this price range; one that is both abrasive resistant and has reinforced tube ends.
Norestar Set of 4 Center Hole Boat Fenders – Check Price On Amazon!
9 ) HULL HUGR PWC Boat Fenders
Your normal boat fender does not work or fit well to PWCs ( Personal watercraft/ Jetski ). They need a specialized marine fender designed for them. Unlike cylindrical or almost spherical boat fenders these fender types are mostly in the form of pads. These are easy to mount and protect the hull of the vessel.
Once the HULL HUGR PWC fender pads are secured on the vessel's body; it stays over there even during the heavy swells. You can hook it under the rub rail or connect the top to a cleat or ski eye. It is quite flexible and easy to install and does not roll upside down or sideways; unlike other fender types thanks to its flat design.
Although it comes in a single piece you would need at least two of such fenders to fully protect your watercraft. Anyone who goes regularly in water and loves to keep his or her boat almost new; must need to invest a little in these boat fenders that especially protect their jetski's and other PWCs.
Don't miss out on this opportunity to safeguard your vessel; it's cheap to buy one of these but definitely costs a fortune if your watercraft gets damaged. I Know the included straps should be of better quality and quite durable but you can easily replace them with bungee cords anytime when needed.
HULL HUGR PWC Boat Fenders – Check Its Price On Amazon!
10 ) Taylor Made Super Gard Fender
The last but not least, this Taylor made super guard fender is both safe and great value. Not just you save a fortune on the dollar but it helps keeps the operational cost os your boat low. After all, nobody likes to pay a little extra on maintenance when it could be easily avoided.
Made for boats in between 30 to 50 feet in length it's stable; strong, quite durable and does not leave a mark on the surface. It's specially designed to operate under varying conditions during mooring operation. A very useful feature of this design is that you can instantly inflate or deflate it with a standard needle and a pump.
There are so many fender types out there but its the most basic yet effective for medium and large boats. You can also stow them in a non-folding rack made by the same manufacturer. With extra protection and high gloss finish, it not just looks good but works quite well. The best part is it came with a lifetime warranty against burst or damage.
It is a one-piece construction with double molded ends for strength and long life. It weighs around 7 pounds and the recommended inflation is 2 psi. On the downside, it is available only in limited color options and the company has quite a poor user experience in terms of after-sale services.
Taylor Made Super Gard Fender – Check Price On Amazon!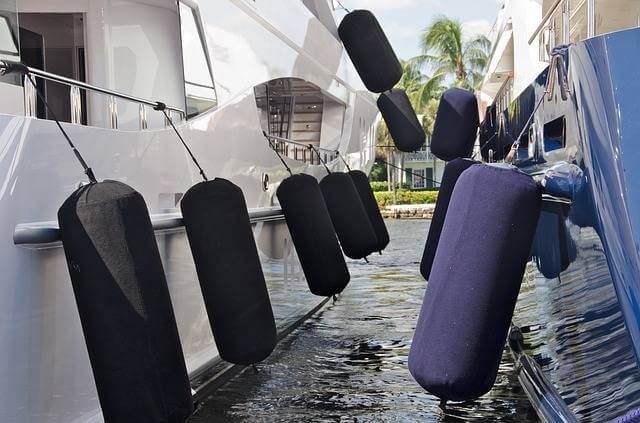 How To Choose The Best Boat Fender – Buying Guide
When you decide to buy a new fender for your boat; one needs to take care of a few things in mind. But perhaps the most important thing is; whether it can withstand the impact forces or not? That is why much emphasis needs to be given on the fender type, positioning, and size.
Maybe that is why everyone suggests going just with superior quality. But rarely anyone explains what exactly to look for in a product other than its price! So let us understand the different quality features of a boat fender. One that helps you understand and make the best buying decision.
1 ) Type
Boat fenders can be of different sizes and types. But there are just four main groups based on their classification. The ball fender, cylindrical double eye fender, cylindrical center hole fender, and hybrid fenders. Just as the name the ball fenders are spherical in shape and are filled with air.
They are quite versatile, easy to install and can withstand higher impact forces on localized positions. Thus require a large number of fenders to be installed on the boat. The cylindrical double eye fender, are more suitable for light boats with short to medium length. When installed vertically it provides excellent protection when docked or during mooring operation.
On another hand, cylindrical center hole fender is more suitable for larger and heavier boats. These are mostly mounted or used horizontally and provide all-round better protection. But it performs exceptionally well against impact forces with other vessels and pilings. While they are more durable they are not suitable for small boats below 25 ft in length.
The last type of fender is the hybrid one that features some qualities of both worlds but had all their disadvantages. These are largely used for specialized vessels type ex: PWCs and localized points like gunwales and rub rails.
2 ) Size
The size of a fender depends much upon the berthing forces for that boat. The higher will be the berthing forces larger would be the size of the fender. But this only the one factor that affects the size recommendation; there are other factors too like the length and weight of the vessel.
Although traditionally fender size is largely recommended based on the length of the vessel. It is wise to take into account of the other two factors; while making the final call. The rule of thumb is, for every 5ft of boat length there should be 1" in fender diameter for cylindrical fender and 2″ for round fenders.
Similarly, if the weight of the vessel is relatively much larger than its size then try to opt for the larger size. On another hand, if you dock boat near a pond or large lake where the water is much calmer. You should go with a lower size fender while for sea's with harsh mooring conditions; buy a size greater for the purpose.
If you get yourself a fender that is a bit larget then it might remain underutilized. But having a smaller size than recommended it may quickly flatten by the weight and impact forces of the boat. So, in state of doubt always switch to a higher size.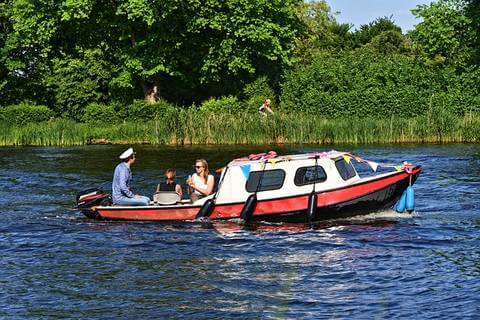 3 ) Number & Positioning
A marine fender will not work if you do not deploy them properly at equal intervals of the vessel. One should always be careful about how many fenders does his or her boat really needs. Make sure you position them properly with each vertical fender placed just a few inches above the waterline.
On average a 20 feet long pontoon requires at least three fenders on its side for complete safety while docking. Well, there is a rule of thumb to have one fender for every 10 feet of your boat length. The only catch is one should always use a minimum of three fenders at all times.
So for example, a 20 feet long boat should have three fenders, four for 40 feet longboat and five for a 50 feet longboat. But since on a much smaller boat of size 15 feet or less; one can hardly place more than two buoys or fender due to lack of space. Under no circumstance, there should be no fender at the fore and aft.
For larget vessels, all other fenders are placed at equal distance or maximum beam. Remember again, more fenders are better than fewer. So try not just to meet the minimum requirement but think of better protecting your vessel.
4 ) Cleaning & Storage
Cleaning your boat fender can be really frustrating knowing how dirty these fenders can get. Also, since they are in constant contact with the outside world; they lost their shine real quick out at sea and becomes dirty. So it required frequent cleaning with a mix of water and mild detergent.
The ones with high gloss cover or added protection become dirty slower than others. Please do not apply force or use a metal brush to clean off the fenders. This will tear off its top surface making it rough which when impact with your boat surface scratch off the paint or gel coating.
Your fender goes along with your boat wherever you go. While some prefer not to touch them others like them to keep in a way when not needed. So you need a place where it can be safely placed before the next use. But that too depends much on its size, boat type and the length of your boat.
You can stow them into the storage locker or put it under the seat. There are also some folding and permanent racks available to secure them on a boat. You can check some over here on Amazon. Otherwise, there is always an option to just tie them on the inner railings.
5 ) Accessories
There are lots of accessories available in the market to work with when it comes to marine fenders. Not just just makes things more convenient but also saves time. Some of the most useful boat accessories specific to fenders are; air pump, valve adaptor or needle, racks and height adjusters.
Since setting the right height for your fender is pretty important; this height adjuster tool came in really helpful at times. Similarly, an air pump came in real handy as most of these fenders type have air-filled inside. Thankfully some brands came with an air hand pump, but for most one needs to buy one for himself.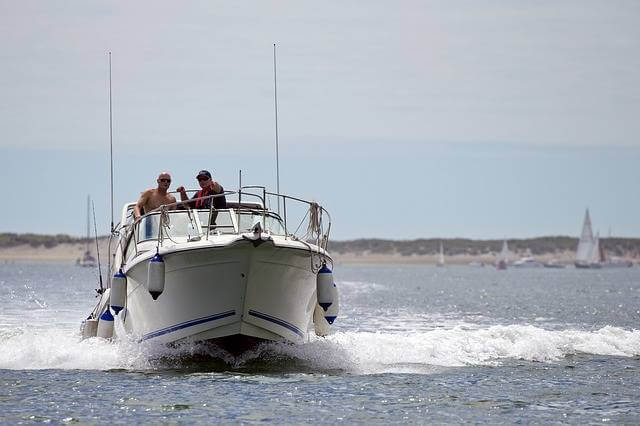 FAQs – Frequently Asked Questions
Q. What are boat fenders?
Ans: A boat fender is a piece of essential equipment onboard that protects the hull against docks, pier or other boats. By acting as the cushion between the hull and the outside object; it absorbs the shock impact thus prevent it to reach the hull. In simple words, it protects vessels and berth from damaging each other when they collide.
Made of materials such as foam, rubber or air-filled within special elastomeric substances; they act much like a spring storing and releasing energy. Whether its naval vessels, small boats, large docks or piers; marine fenders forms one of the key marine equipment for safe marine operations.
Q. Do boat fenders float?
Ans: Not all fenders can float but most do thanks to their lightweight and pressurized air filled inside. On average a cylindrical fender contains air at 2 psi pressure. This add's to the buoyancy of the fender and thus it swims easily even if it falls off the boat. That is why many a time they are used as a buoyancy bag or buoy.
Usually, a fender is tied in a way as it remains just above the waterline when tied to a floating dock. This ensures there is always a sufficient gap between dock and boat. Round fenders that can float well are generally thrown in the water to mark the position of the anchor at sea.
Q. What are the boat bumpers & What they are called?
Ans: Many a time a boat fender is also termed as a boat bumper; because it acts as a barrier or protector in between the boat and the outside world. Used on all types of marine vessels from yacht, ships, boats, and ferries it diffuses the kinetic energy of a vessel during impact and thus avoids loss of life and money.
Q. Where should my boat fenders be placed?
Ans: A rule of thumb is to place the first fender at maximum beam width. The other fenders left should be placed at an equal distance from each other up to the stern. On average one fender is used for every 10 feet of your boat length with three fenders at minimum. Thus a 20 feet long boat should have three fenders.
These fenders need to be placed just a few inches above the waterline. This ensures it does not swing or displace with the movement of the boat. To fix a fender to a rail or a stanchion, use one of the three knots types: clove hitch, running hitch and the turn or half-round turn hitch.
Also Read:
Do You Know We Write Post On Your Request?