Last Updated on June 6, 2020 by Amit Abhishek
If you are like me, going for a boat ride itself is an exciting endeavor. But for many, it's just another recreational activity. You can make it more fun, adding games to play on a boat.
When it comes to making your boat ride fun. The only limit is your imaginations. If you are a boat owner, you should be doing just that to get the most out of your investment.
Whether you enjoy participating in different fun games or to watch from the stands. There is always something that will intrigue you, makes you compete or at least enjoy the moment.
While on land we have plenty of room to play just whatever we want. On the boat, you have the surrounding water. Which can bring a whole new dimension to the boat fun?
Whether you are hosting a boat warming party or it is just recreational boating with friends and family. We got you covered with our list of the most fun games to play on a boat.
In this article, I will list and explain games to play on a boat. For your convenience, I have classified them into two categories; indoor ( one that you can play on deck ) and outdoor ( in water ).
15 Best Games To Play On A Boat In 2020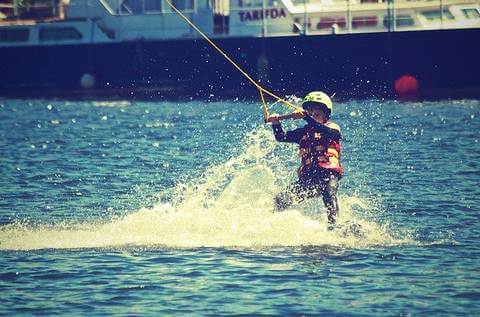 A ) Outdoor Water Sports
There are numerous types of water sports one can take part in. The best part is being surrounded by water there is plenty of things to do. While some are generic and easy others involve thrill and strength.
Either you are with friends or family there is something for you to do.
This can involve sport like; water basketball, jump deck contest, cornhole on the water, speed tubing, wakeboarding, pool noodle joust, water volleyball, and stomp rocket swimming fetch.
While some sports are quite safe for others you require additional safety. For example, you need to have a life jacket for everyone on board. You can buy one from amazon or in bulk ( Set of four – check price on Amazon).
1 ) Water Basketball
Water basketball is a good idea to enjoy pass time on a boating trip. Great for kids and family its both exciting and fun. The actual game is somewhat in between the water polo and basketball.
While played mostly in a swimming pool at a competitive level. It fit easily into the recreational environment of your boat. Just stop your boat, get inside the water and start playing.
You also need to split into teams, take positions and try to pass the ball through the basketball hoop. You can play it with or without life jackets; near or far from land.
All you need is to hook the basketball hoop on a gunwale or the side railing of the boat. Not just relax and enjoy the game while everyone else in the water tries hard to beat the other team.
Recommended Product: VersaHoop Basketball Mini Hoop Kit
2 ) Jump Deck Contest
One of popular Pool Deck Contests this one is for the big-bellied, boney-legged boater who likes to shock them all with the biggest splash. Whether you accept or not this game will bring out the child in you.
Routinely offered in cruises around a pool it involves the real face-offs between passengers and some time crew. On issues such as who has the hairy chest, big belly, best figure and the ability to surprise with a perfect belly flop.
These pursuits offer a perfect excuse to act silly bringing the best out of yourself. Moreover, you can always add some music for fun or make your own house rules to make it even more interesting.
The good thing is you do not need to have anything for this one; other than guts to do things that can generate loud cheers. The only limit to what you can try is your imagination.
3 ) Cornhole On The Water
Cornhole has really become the go-to game for backyard barbecues and family picnics. It's popular, easy to play, is great fun for all ages and just can be played anywhere.
But wait what about us who wants to play it in the water while being on a boating trip or boat party?
Luckily Airhead has recently made its own cornhole game to play in the water. Its called "AIRHEAD LOB THE BLOB Cornhole Game" which is pretty much the same but with the ability to float.
You play it just like you would on land, where the team is divided based on their roles. One team has to defend while the other tries to get their blobs into the floating hole.
There is just one difference which makes this game even more interesting. The ability to float and move freely in water; that adds up to its distinct element of playing in the water.
Recommended Product: Airhead lob the blob – Check Price On Amazon!
4 ) Speed Tubing
This one is rather special as of all Games To Play On A Boat; I personally find it most exciting and fun! It's much similar to regular tubing but not exactly the same.
Most people are familiar with tubing in which you toe a tube with the help of a rope tied to the boat. It is called both relaxing and exciting at the same time. Almost everyone likes to enjoy a ride on the tube.
But what if you can simply add more thrill and excitement to the game. Rather than going for a regular tubing approach try speed tubing. It's physically challenging and causes a sudden adrenaline rush.
Causing thrill and feeling of enjoyment especially when you are playing in a team. It simply involves towing two or more tubes at the time but at a greater speed around the lake.
The one team that manages to survive and does not fall into the water before the other wins. Considering the challenge involved I suggest to wear one life jacket for each; just in case to be safe.
Recommended Product: Airhead Mach Towable Tube for Boating
5 ) Wakeboarding
Definitely not for amateurs who do not like to try something new. Wakeboarding is popular among young people who love the thrill and does not hesitate to go a little too far.
Developed from a combination of water sports like water skiing, surfing, and snow-based boardsports. It involves a wakeboard and a towing rope. Unlike most other watersports it's relatively easy to learn.
Here your lower body is turned perpendicular to the boat direction. It is vital in this sport to stay afloat at the start. So wearing a professional life jacket or vest is a must after the board itself and the boots.
How to get up on a wakeboard:
When you are starting do not fight the board
Make sure the rope is on top of the boat and get in the couch position.
Do not make the mistake to stand up too early otherwise you will standup and sink. So be very patient.
Keep both hands on the handle of the tow rope as you slowly try to keep the board on its edge as the boats move.
Do not resist and let the boat lift you.
Now slowly turn the board putting your best foot forward.
Now move side to side riding with your hand kept inside. There is no harm in keeping your hands outwards but keeping them inward helps with control.
Recommended Product: Hyperlite New 2019 Wakeboard
6 ) Pool Noodle Joust
This one is that game that you can easily play on a large deck or in water. Not to mention you do not need a large space for this game. But I personally prefer to play in the water.
Since its a two-player game there is no problem as such; for the whole team to get wet. You will always have enough players to play even if you do have enough players on board.
Take out your foam noodles, place the floating water mat into the water. Now joust! Once on the mat, each player will try to knock the other outback into the water. You may or may not need a life jacket.
There are many good-sized floating mats available that you can use. I would suggest buying 4-5 6 x 6 Feet mats and grouping them together. This way others can enjoy while the two will compete.
Recommended Product: Floating Water Mat – Check Price On Amazon!
7 ) Water Volleyball
If there is something else I personally like to play on a family boat trip is water volleyball. Intex Pool Volleyball net is easy to inflate and came in with its own ball.
So unlike in water basketball, you did not need to buy a separate ball for the same. The best part is you can inflate this with your own mouth; meaning no need to buy or have an additional air pump.
You may think since it tends to float a bit; it is better to play in calm waters. But one can also make it anchor to its position. The pole bases come with anchor weights which makes it stick to its position.
The rules to play are similar to ordinary volleyball; with one exception. Here there is no such case as "ball out" in the middle of the water. Grab your friends and family for hours in this fun game.
Recommended Product: Intex Pool Volleyball – Check Price On Amazon!
8 ) Stomp Rocket Swimming Fetch
My younger brother had stomp rockets for more than a year now. It never crossed into my mind that it can be played on a boat trip; unless I read something related on the internet just by luck.
Must say we tried this on our own on a boat trip with the family. I must say everyone who played fall in love with this game. Yes, kids take a bigger interest in this game but its still worth trying for adults.
You need to set the stomp rocket on the deck. Now stamp down on it with your stronger foot to fire. You will be surprised to see how far can this can actually go in the water.
Once fired two or more players will hop into the water to compete. The one who can bring back the stomp rocket back to the boat wins. The game is about speed, power, and competition.
Recommended Product: Stomp Rocket with Ultra Rocket LED
9 ) Kayak Racing
If you are for a boat party that lasts for more than 6 hours; I would recommend adding kayak racing competition for the day time. It's refreshing and fun to do especially in a group.
You can make your own house rules, race distance, participants, etc. Every time we ( I and my friends ) go organize a small boat party; we ask two participants to hop into the water.
Then we give each of them a kayak and anchor the boat some distance apart. Now the game is "who will reach to the boat first will win". That is always better than solo kayaking.
I suggest not to bring more than 2-3 kayak on the boat as it will negatively affect the overall experience in the boat party. So bring them on board and have more fun!
Recommended Product: Intex Excursion Inflatable Pro Kayak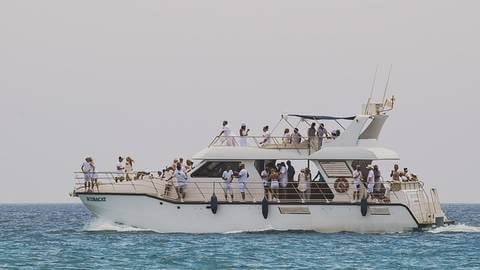 B ) Indoor Games To Play On A Boat
There are numerous indoor games one can play on the boat. Either its the boat party or recreational boating trips; it fits well with the situation and bring more fun to the trip.
Far off it may look just other versions of a popular kids game, but up close each game has a twist.
That means that the very same games will become more fun to play in a group or with family on a boat than it uses to on land. Even when you are getting bored in between the boat trip; these games come in as a rescue.
Either way, if you are not kind of an outdoors person or just want to take a break from the sun. These games can be a great deed to spend some time and feel good about it.
10 ) Boat Trivia
You better be prepared if going for a boat trivia quiz competition. This is a kind of game that can be played individually or in a team. It's so popular that official trivia competition is organized in parties, cruise, and events.
These games help expand your knowledge, have a discussion and healthy debate with other participants all while having a fun time playing. This can include topics ranging from sports, history to science.
While the average version of the trivia quiz can feel a little too easy; there are always topics and questions to add that challenge your knowledge. For your help, there are always apps available on both stores ( Apple + Android ).
In fact, some of the most interesting ones I came with are questions related to different types of boat, marine terminology, safety rules/equipment and parts of ship or boat.
Overall it's a great game to play that not just test each other knowledge; but also build a better bond, reduce cortisol level ( stress ) and acts as a perfect cross trainer for our brain.
11 ) Beer/Water/Soda Pong
One of the crowd's favorites, It can be a great hit for a boat party. But before you begin I must admit; I was never a true believer of this game or getting drunk but appreciate the social aspect of this game.
In case you are with kids and family simply replace the beer with water or soft drinks. It will still be great fun to play and a great social experience. The game revolves around throwing ping balls into the cups.
The object of the game is to eliminate all cups of the opposite team before the other team does. In the process every time the opposite side manages to remove one; you need to finish off the content inside the cup.
This game is really easy to set up, requires 20 solo cups, two ping balls, a long table or similar structure, two participants and lots of soda/water/beer depending on how you will play.
12 ) Board Games
Board games can be a little fussy and odd to play on a boat party or recreational boating trip. But there is nothing better than this to pass time and play with your family.
Out on a boating adventure, we already have baggage to bring so many things. So I personally do not want to ask you to bring different board games along on the boat.
Instead, bring in this "Merchant Ambassador Classic Games" a Collection of 100 board games to play on board. Including games from Chess and Checkers to Parcheesi and Ludo.
Great for children of all ages and adults its widest set of family games available known to myself. Personally, tell me if you know a bigger collection than this at such an affordable price.
Recommended Product: Merchant Ambassador Classic Games
13 ) Singing Competition
Not fit for every boater or boat this can be a game-changer for boat parties. As far as cruise ships are concerned karaoke is a must for its passengers. Afterall its a king when it comes to having fun and expressing themselves.
Thankfully you do not have to organize; a dedicated singing competition at a boat party. You just need a karaoke mic and a good pair of speakers to play this game and have fun in your boat party.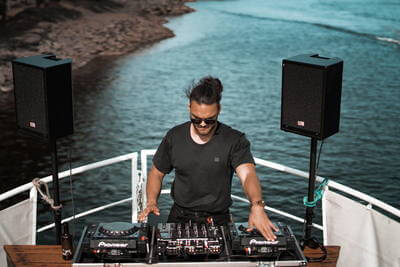 A good old fashioned boat party is great, the one with DJ/Songs is better and the one which has singing competition is best. While it doesn't seem much but its what that will make your trip even more memorable.
You can get a "TONOR Wireless Professional Dynamic Mic Set" for Karaoke-Party from Amazon at an affordable rate. You can then easily connect it to your boat speakers or any other speaker on a boat.
Recommended Product: Rockford Fosgate Boat Speaker – Set of 2
14 ) Card Game
If you ever been anywhere in a group you will find someone with a pack of cards. It's not because they are so funny or great sports but are good to spend time and have a great time playing.
They are small, easy to carry and can be played in a number of different ways. The best thing about card games is that it provides great entertainment value to the whole family.
It's a no brainer! Almost everyone knows at least one or two games to play with cards. If you are someone like myself who likes nice personal time; quite and fun playing cards you can try solitaire.
For small kids, there is other cards game like UNO to play. So there is always something that interests someone or a group. Some of card game ideas for you to play on a boat are:
Blackjack
Knockout Whist
Poker
Hearts
Crazy Eights
Rummy
Solitaire
Spades
Casino
15 ) Battle of the Sexes
It is rather special as unlike other games each participant competes to show who is the best. Here it is all about who is the superior gender? Although this question will never be fully answered; it is quite fun to try!
This can be played both in water or onboard and sometimes both. Bring in a dozen of great game ideas to play on a boat and start competing. Just make sure you have equal no of participants on either side.
There are no strict rules for this game other than you need to have males on one side and all females on another.
So do not hesitate to make your own house rules or bringing in new challenges. Every challenge you win to get your team a point and gender with the most point at the end wins.
Note: This article is produced on request from Eric Christian
Also Read:
Do You Know We Write Post On Your Request?