Last Updated on September 21, 2019 by Amit Abhishek
There's no better job than being marine engineer or merchant navy officer; if you want a lavish life style, handsome salary, better career growth, time flexibility, work culture and opportunities to travel across the world. It's almost a dream come true for many who failed to selected in IIT's for various reasons.
Looking back in time, it was just a bare luck to know about it and join merchant navy. I was unaware of this field as an option that time. I believe its the same for most for you.
Being a merchant navy officer or marine engineer from any D.G approved college makes you eligible for this job. But having a government backed institute really have an impact on campus selection. Placement statics raise from 60% to 90-95% in government marine institute. I learned it hard way how it can accelerate your carrier growth; when it was too late to decide. So to help you out; I will discuss all aspects of this carrier with top government institute and how to join them.
What is merchant navy?
In simple word's it is the other name for commercial shipping/Merchant Shipping/Merchant marine. It is an operation of assisting global trade by non-military ships. Transportation being the sole force behind economic prosperity; its important to keep this economic engine moving. Ships are what global transportation is based on; after all it accounts for more than 90% of total commercial transportation across the globe.
With high demand and enhanced safety standards, merchant navy have become one of the best option to pursue as a carrier. It's a vast industry with ships carrying cargo ranging from wines, woods, grains, finished good to oil and gases. Ships are advanced sophisticated piece of machinery which require skillful labor for operation and maintenance.
Difference Between Navy and Merchant Navy?
After telling what merchant navy is all about; I have a gut felling that you have some idea between their differences. But to make it even clear and detailed; let's dig deep into the main differences between Navy and Merchant Navy:-
| | |
| --- | --- |
| Navy | Merchant Navy |
| It is the naval division of combined armed force of a nation. | It is the naval element of global commercial transportation. |
| Their main task is to secure the interests of their country in national and international waters. | Their main interest is to make money. |
| They are under supervision and control of their national government. | They are run by big commercial shipping companies. |
| Every nation maintain a level of training for navy cadets based on their country. | They maintain a minimum training standards based on international shipping laws. |
| Have large amount of main power for task like arms, engine, deck and galley. | Maintain only the minimum amount of crew on board required by law at all times. It is generally 20-25. |
| They are bound to national interests, laws and orders. | They are bound to international laws for pollution, safety and shipping. |
| The applicant must be citizen of the nation to join Navy. | The applicant may or may not be the citizen of that nation. |
| They are paid as a regular soldier or officer. | They are paid on a contact basis. |
| Have lower pay scale but with many other benefits. | High salary with no othe incentive. |
| A navy officer can easily join merchant navy after retirement. | A merchant navy officer can never join navy. |
-> Above all they have similar but different ranking structure.
Merchant Navy Salary and Carrier Graph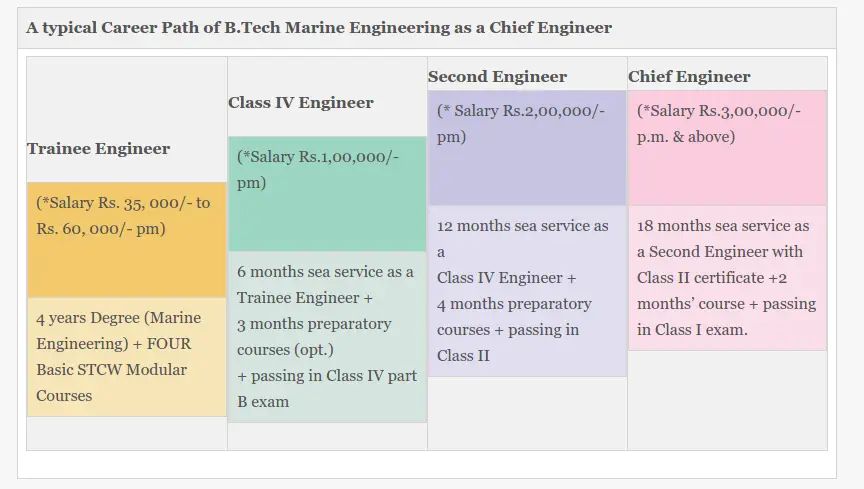 One of the most common and fascinating question asked by dedicated students; who wants to pursue their carrier in this field. It's a simple and obvious question which arise in all of our minds; even me before pursuing my carrier as a marine engineer. Based on the hierarchy of ranks, it can be in between 15,000 to 15,00,000 rupees (Indian) per month.
Crew on the bottom of the rank chart or so called UN-licensed deck/Engine staff like Boson, Trainee O.S, Able Seaman, O.S, Wiper, Motor man, Engine and deck cadet get lower income. While on the top like captain and chief engineer earn 10-15 lakhs on a monthly basis. In engine side a junior engineer can start his/her carrier at 30 to 40 thousand and get promoted to the rank of chief engineer over 10 to 15 years of work experience.
There's a constant growth among ranks and salary with lots of added benefits. For example; you not have to pay taxes on your income if you sail on a foreign going vessel. Actually, according to the laws of different country including India; you are exempted from any taxes if you live more than 183 days outside India or that country of nationality.
It will develop your personality as; its not just a carrier but a life style which will make you smart, teach team effort and give chance to meet new people across the world.
How to Join Merchant Navy?
A job in merchant navy either in the form of marine engineer or deck officer is a lucrative offer. You need to acquire decent amount of knowledge with spirit to work even under bad sea condition. You need to be conscious, aware and watchful at all times; as working at sea demands those qualities from every person on-board ship. Working on ships can master your skills and let you meet people across the world.
One can join merchant navy after His/Her diploma, Intermediate (12th) or graduation. While you can join after graduation or diploma, its always preferred and better to join merchant navy course after 12th. It has become one of the popular courses to do after 12th. One can pursue one of the following courses to join merchant navy:-
Bachelor of Nautical Science
Bachelor in Marine Engineering
B.Tech in Naval Architecture
B.Tech in Marine Engineering
Bachelor of Technology in Marine Engineering is a four year course offered in many government and private col ledges in coastal India. It is the course of proficiency for class four marine engineer as per the norms of D.G Shipping (Govt of India). On another hand; Bachelor of Nautical Science is a three year course for proficiency in deck officer as per the norms of the D.G.Shipping.
Admission Procedure
The admission procedure includes online-offline examination, Psychometric test, Interview and medical Examination. The entrance test questions are all multiple choice question similar to that in JEE Mains (But a little easier). Questions are asked on basic educational knowledge at 10th and 12th standard including English, science, math, G.K and reasoning.
All selected candidates are then asked to go through a medical examination and then alloted confirm admission. Medical test include checking of eyesight, blood, any sign of disease, signs of hernia or minor/major medical condition. They will also look for your age, height, weight along with other medical conditions to meet the medical standards set by D.G. Shipping (Medical Examination Rule 2000).
Entrance Test (Tips and Myth's)
A lot many candidates with relatives in merchant navy know a fact; that its quite easy to get job if you have a relative in the field. It's not 100% true but not false either; But you won't get the job if you don't get the admission or simply don't pass the competitive exam. Each year thousands of candidates go through these tests, of whom only a few hundred succeeds. Don't worry; here i am to guide you through the process.
The test consist of four section with fifty questions for each; General awareness, Science, Mathematics, English and reasoning. Its better to start from general knowledge and reasoning as they are fairly moderate (Difficult) while others are considerably easy. (Maybe this is what i feel during my test 7 years before).
Keep an eye on the clock as you only get two hours to solve the paper. If you don't know the answers don't hesitate to guess (there is no negative marks). It has been found in various studies that most likely the correct answer in multiple choice question is either B or C. See for the trend in question you know answers of and act accordingly.
Top 10 Government Marine Colleges in India
Merchant navy is a vast field with lots of economic and job opportunities. You will always get a job but having a government college to back is always helpful. These institutes have better placement records (Campus) and a trust value that won't let you wait for your first ship or get job from outside (Off-campus).
Back in my time i was literally unaware of these colleges (which i learn only i join merchant navy) and regret for the first year in my college. So to help you choose the best out of best, I have came with a little list of top 10 Government marine colleges in India:-
Marine Engineering and Research Institute, Kolkata
Indian Maritime University, Vizag Campus
Indian Maritime University, Chennai Campus
SCI Maritime Training Institute, Mumbai
College of engineering, Andra university
RL Institute of Nautical Science, Madhurai
D.R B.R.Ambedkar institute of technology, port blair
Marine Engineering and Research Institute, Mumbai
Indian Maritime University, Chochin
SCI Maritime Training Institute, Kolkata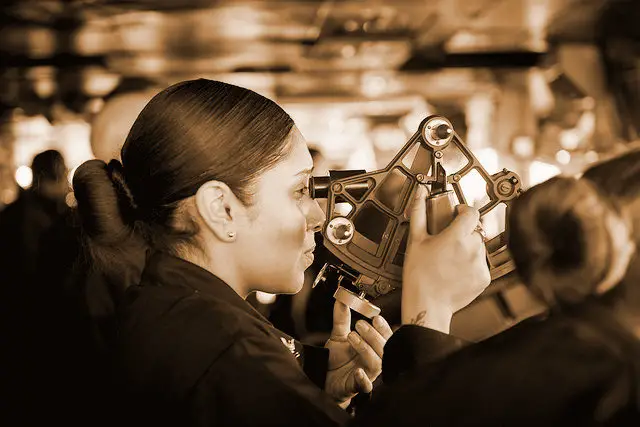 Is Merchant Navy Safe For Girls?
Giving a thought to join merchant navy knowing its a men dominated profession is itself a bold move. Women have gone out of their comfort zone to join different carrier in the last decade. In fact around thousand women are working in this field; which is only going to expand in near future.
I expect you would like to female mariners views, but as a male marine engineer its even harder for me to know all your concerns. The only concern i can think of is safety and work. Yes working as a girl on board is not that easy, you are expected to prove yourself while adjusting to work side by side to other male counterpart. I know it can be hard some times you can't have everything separate; you have to share something with other crew out of your comfort zone.
I have worked on one of my sail with a senior marine engineer (Female); she was really professional and help break the slightest of stereotype i have in my mind. Yes there had been incidents in the past when some drunk crew misconduct with fellow female officer. Things have changed, strict laws are placed on board for their safety.
Nowadays the only thing you had to sacrifice is your personal and social life; as you will be almost cut off from the rest of the world for months. I would say; go out near harbor, see ships, watch videos and get feeling of life on board ship and if you feel like to join, go ahead.
Is Merchant Navy a Good fit For Me?
No matter how your school was, how intelligent you are and how much marks you get in 12th. If you do have a right attitude, willing to work and medically fit – Its natural to join merchant navy. Suppose you are weak in science (PHY+CHEM) but average in mathematics go ahead for nautical science. If you have passion for machinery and tools, stay interested in technology then marine engining is a best fit for you. If you lack even that, go ahead and start from oiler, fitter, ordinary seaman etc.
There is always a job for you in merchant navy with more than what your friend with 20-30K expects; provided you have the required work culture, willing to learn and right attitude. After all its your personality and nature which plays role in merchant navy. If you have a love for adventure, sports, visiting new places, interacting with people; you are good for merchant navy.
Even if you don't have the above quality don't be disappointed, I am with you on the same ground. It took me two months to adapt to ship culture as its never that hard to adapt. So don't hold yourself back and say good bye to old school eight to eight hectic work schedule.
Conclusion
Research have shown that the demand for merchant ships is only going to increase in the future with little bumps on the road. There will be times with economic and transportation loom; but demand will only increase in the long run. With up coming growth in shipping industry with sophisticated equipment's and modern navigation system; more and more experienced knowledgeable people will be required on ship.
Therefore young students will find easy to get job in off-shore, on-shore, main fleet and other shipping industry. There is a boom coming at the horizon after this looms ends around 2020. Its the perfect time to get into this field which provide financial stability from the start of your carrier. There's a new world order waiting; be prepared and explore the world that you only see in televisions and magazines.
Also Read:
Or