Last Updated on April 22, 2022 by Amit Abhishek
Inflatable pontoon boats are idle for average fishing needs. They are simple in design, easy to store and can be easily transported in the trunk of a car.
These are quite safe to operate and last longer when properly maintained. It's your cost-effective solution to fishing boats for lakes and rivers.
They ideally have two large air bladders that make up for the bottom base connected with a metal frame.
While a large number of inflatable boats have metal frames for additional support; it is not uncommon to see many without them. Modern inflatable pontoons are equipped with as much as 950 hp motor; with a maximum speed up to 30 miles per hour.
Today inflatable Pontoon Boats came in the different size ranges. Modern pontoon boats offer more comfort and space then it used to before.
It's a nice investment for a nice time on the water. It is both portable and versatile while offering the near same experience of any regular boat. I have invested a great deal of time both online and offline; searching for the best inflatable pontoon boats on the market in 2022.
There are several inflatable pontoon boats in the market today. But I like to list those which are safe, durable is idle for fishing and worth your hard-earned money.
The list below contains the inflatable boats which are most comfortable, is versatile, durable, and are the top best in its category.
7 Best Inflatable Pontoon Boats of 2022
1 ) Sea Eagle Inflatable Frameless Pontoon Boat
Looking for the best inflatable boat designed for fishing? This customizable frameless Sea Eagle is well known for a reason.
Its frameless design makes it more versatile and easy to transport; thanks to no metal parts. It is easy to store, inflate and deflate and can be set in less than 10 minutes.
It features a U-Shaped hull design unique to inflatable pontoon boats. This allows for the maximum use of the fishing space with minimum weight possible.
The build quality is good, is quite sturdy, includes swivel seat and remains stable in waters. Ideal for fishing on lakes, ponds, rivers, and ocean bays; it can easily withstand abuse over time and really last long.
The Sea Eagle 285 measured around 9 feet in length and 4 feet in width. It weighs around 42 to 44 pounds with a maximum load capacity of 450.
The boat has plenty of storage space and provides; enough room for extra sitting space. This pontoon boat came with a 3-year warranty. Now shop with confidence!
Overall it stays true to its overall worth and includes a number of accessories; ex: stow bag, seat, repair kit, air pump, oar set, and a carry bag.
The two things that I like about this boat is its 360-degree rotating seat; and its ability to fit inside my car trunk with all the fishing gears, batteries, and trolling motor.
Sea Eagle Frameless Pontoon Boat: Check Price On Amazon!
2 ) Colorado XT Inflatable Pontoon Boat
Designed for solo fishing it's extremely popular and quite stylish. Rated for 400 pounds it offers ample storage space; for everything, you would like to take with yourself.
If you are on a budget it's fairly a good product for the price. Featuring a sporty look it helps you smoothly glide through large ponds, near ocean waters, lakes, and rivers.
It features inbuilt insulated drink holders and is quite versatile in nature. Overall the boat is tough, can withstand abuse and is long-lasting.
Being little on the budget side it is great for the first buyers; who are looking to get their first inflatable fishing boat.
Made from material such as abrasion-resistant PVC; it is built to last long. This means it can easily take on to the challenges of the most hostile environments. Furthermore, it includes a 2-year warranty; so stay relaxed!
Some of its key design features to highlight are; non-slip footrests, ABYC standards structure, three oar-lock positions, detachable fly patches, etc.
It's quite stable in waters, easy to assemble and easily fit into a small gear bag. The Colorado XT measures around 9 feet in length and weighs 68 pounds.
The boat is rated best for Class 1 rivers meaning for calm waters only. Otherwise with two-position trolling motor mount and adjustable fold-down seat; it's too good to be true at the price.
Colorado XT Inflatable Pontoon Boat: Check Price On Amazon!
3 ) Colorado Base Inflatable Fishing Pontoon Boat
This one is rather a cheaper version of the above mentioned Colorado XT. This base model is obviously much cheaper and includes just the basic features.
Classic Accessories has been making inflatable pontoon boats for a long time; it's just one in their line of product.
The abrasion-resistant PVC bottoms with large 1 inch thick frames; make it quite durable and sturdy in nature. While the nylon tops are built to offers quite a great experience with added durability and style.
Designed by nautical engineers it features large diameter tubes; the ones which are industry-leading for a one-man boat.
While it lacks a little in build quality and other less important features; when compared to its premium XT version. It has an added advantage of cup holders which lacks in Xt version of this Colorado series. Plus, it includes two more mesh bags for storage.
With such a sturdy well-built design one can easily add on to a powerful motor. Like Colorado XT it too measures 9 feet in length and has a total capacity of 400 pounds.
The best point is that you cannot find such a good boat anywhere else for the price range. In quality and performance, it is just like any other expensive boat but still manages to keep it in the budget.
Above all, whether you use it with oars, electric trolling motor or just keep kicking with flippers; it performs exceptionally well.
Colorado Base Inflatable Pontoon Boat: Check Price On Amazon!
4 ) DAMA Inflatable Pontoon Tube Boat
A budget-friendly fishing pontoon with a capacity of 380 Pounds and awning canopy. If you are looking for nothing fancy; it is idle for a one-man pontoon boat.
Not just it features all the basic necessity of an idle fishing boat; with much-needed comfort of the adjustable padded seat. But it also does not dent the wallet.
The DAMA is very unique in its design with awning canopy. It features an abrasion-resistant PVC bottom with nylon upper for best experience and durability.
The boat is 76×39 feet in dimensions and weighs around 34 pounds; one of the least in the market. This can be a deal-breaker for old age, women, and teens who like to give a helping hand to their parents.
In addition, it lasts really long and is quite easy to inflate-deflate. I truly find it extremely comfortable in my study; and is quite light to carry by its backpack style carrying straps.
The inflated portion is quite thick meaning it can take much abuse. While its long enough one can relax with his or her legs pulled wideout.
This boat has a folding frame that takes just 5 minutes to assemble. The whole package involves an inflatable pontoon boat; a handbag, a repair kit, a manual air pump, and two aluminum Oar Paddles.
Overall it's a good option for those; who want to buy a pontoon boat for fishing. But are restricted by the budget or want to try a lighter pontoon for their first time.
DAMA Inflatable Pontoon Tube Boat: Check Price On Amazon!
5 ) Roanoke Inflatable Pontoon Boat
Another Classic Accessories product that is quite popular for its reliability and flexibility. This is the best inflatable fishing boat offering enough room and space to hold your fishing gear with two fishing rod holders.
If you like to row your boat to the middle of the lake and then cast multiple lines; it's a great fit for you especially if this is your first pontoon boat.
Unlike many other pontoon boats, it's easy to assemble, durable and affordable. This pontoon is rated to 350 lbs, but I have seen it not to work well beyond 250 lbs.
But it is more than enough for a single person looking for a customizable pontoon boat. One that is lightweight, fits inside the trunk of your car and easily fit within 5 minutes.
Being a low-cost alternative to the Colorado XT series; it does not have a motor mount or a transportation wheel. Similarly instead of fully adjustable swivel seats in the XT series; Roanoke Inflatable boat has a plastic fold-down seat.
This boat is 8 ft. long and weight 43 lbs against expensive similar models; which is 9 feet in length and weights a little more.
The Classic Accessories Roanoke Inflatable Boat came with unique features like; Mesh under-seat apron, rear storage platform, zipper storage pockets and more.
However, with a 1-year warranty, adjustable footrests, and 2 aluminum oars; you can put your trust in it. In addition, it has PVC bottoms that make it tough to withstand quite and abuse over a long time of use.
Roanoke Inflatable Pontoon Boat: Check Price On Amazon!
6 ) The Killer Whale Sports Dingy Boat
Made with quality and speed in mind it's the best of both worlds; the pontoon and a dingy. Designed by nautical engineers it is fast, very stable and durable.
The boat length 10.8 feet in length providing a bigger working area. Incredibly portable and easy to assemble it features a reinforced front dingy; with an extended rear pontoon allowing for maximum balance stability.
This allows for more load capacity and a larger area; to mount the high capacity motor. Its seats and flooring are of the easy slide aluminum; which is both strong and light.
The best part is even having so many moving parts it's quite easy to assemble. In general, it takes just 10 minutes to inflate and set it up.
Built for the tough ocean conditions it can be used anywhere for; tendering, fishing, recreational activity and in emergency situations.
If it would not be a little high on the budget it definitely deserves the first place in my list for best inflatable boats.
Some of the unique features of this boat are; 1000+ lbs load capacity, 3-year warranty, reinforced transom, top-grade PVC material, lightweight and portability.
Very sturdy and well designed it keeps you high and dry under all conditions. In addition, being a larger boat you can easily take in 5 adults for a short trip.
If you are not so picky on price and looking for an excellent product; with even better customer service it is definitely worth investing.
The Killer Whale Sports Dingy Boat: Check Price On Amazon!
7 ) Cumberland Inflatable Fishing Float Tube
Technically speaking this pontoon boat is a league on its own. Made for more basic adventures it's just idle for backcountry fishing.
The design is predy simple with a hydrodynamic hull shaped float tubes. Having an extra-high seat it keeps you drier and offers better visibility.
The boat is easy to inflate and can be assembled in less than 5 minutes. In addition, its 14 lbs weight with adjustable shoulder straps makes it idle for backpacking.
Designed as per ABYC standards it has plenty of room for great comfort. This is one such boat you take out on the water for relaxation.
Some of the key features of this boat are; 250-pound capacity, 1-year warranty, small mesh pockets, additional reel pockets, horizontal rod holder ( velcro straps ) and extra-large backrest idle for solo anglers.
The boat is 56 x 44 in dimension making it idle for a single person. It also has a reinforced PVC bottom something hard to come by at such low price.
Overall it's a one-stop solution for your basic fishing needs. Plus since it's does not cost much its always easy to use anywhere without a second thought.
One of the best things I like about this boat is its thickly padded seat; which otherwise is replaced with a plastic one in many cheaper models.
Cumberland Inflatable Fishing Float Tube: Check Price On Amazon!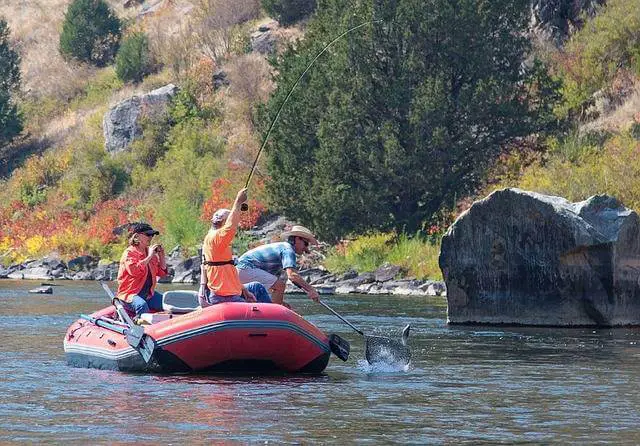 How To Choose The Best Inflatable Pontoon Boats
When you are buying a new inflatable pontoon boat one should always keep a few things in his or her mind.
To make an educated decision it is important to know and ask what is your need? For instance, what be a great option for one person might not be for two or more.
'Is it well within my budget?', 'what are its key features?', 'is it durable?', 'warranty period?', 'how much load it can take?', 'what is its weight?', 'how long it takes to set up?', 'is it nimble enough to fit on your small truck or within trunk of the car?', etc.
These are some important questions you should ask yourself; before making any final decision. You're probably eager to jump into reviews but it's important.
This not just helps you understand actually what are you buying for the price; but also helps you learn what to look for in any pontoon boat.
We have thus reviewed and listed the above products based on these parameters. I personally research and tested each boat on each parameter and ranked accordingly.
Since they are some of the basic necessities of any modern pontoon; we also look at additional aspects such as frame vs frameless design, backrest, motor mount, customizability, and portability before making our final list.
Our main priority while preparing the above list was its quality and price followed by other aspects. Overall I have come up with a fair list idle for all.
Frequently Asked Questions?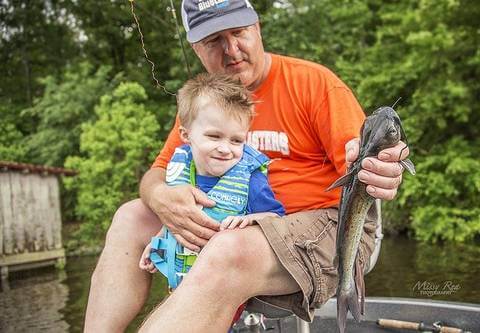 Q.1. Are inflatable boats good for fishing?
Ans: Inflatable boats are great when used for fishing. They are quite, portable, can work in any draft condition, is versatile and do not cost much; when compared to any traditional recreational or fishing boat.
Being extremely lightweight and stable you can take your boat; to unchartered territories away from overfished areas. In addition, being quite stable and quite you do not need to continuously work with oars.
This then goes to your advantage when fishing. As you would not want to scare them off with any movement. The quieter it is the more fun and easies it would be to catch fish.
Q.2. What is the best material for inflatable boats?
Ans: There are two main types of material used in modern inflatable boats; PVC and Hypalon. While the Hypalon fabric is a kind of synthetic rubber; PVC is a type of plastic or in simple a synthetic plastic polymer.
Hypalon fiber is mostly associated with excellent abrasion resistance properties; ability to withstand extreme temperatures and long hours of sunlight, resistant to oil and chemicals, low maintenance and high price.
On another hand, PVC is an economical choice of material with similar properties. These are more lightweight and can come in a variety of colors. This not just makes them help make the boat more portable but also stylish.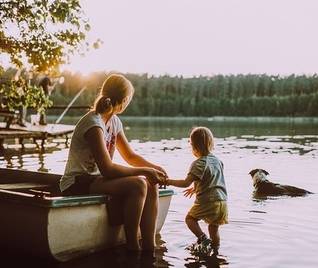 Q.3. Are inflatable pontoon boats safe?
Ans: Since inflatable pontoon boats are mostly PVC tubes filled with air. They are quite stable thanks to the extra buoyancy. These are extremely lightweight by design and can be easily take in or out of the water.
They are so stable by design they won't roll on its side even when you suddenly stand up. This makes all inflatable pontoons safe for calm waters. But there are some designated only for Class-1 waters; not safe for all water types.
Overall in the larget context, almost 60% of all inflatable pontoons are safe under all conditions. While a few are most suitable for calm waters such as lakes and ponds. But, it all ends up whether you load your boat within its weight limit or not.
Q.4. How to store inflatable pontoon boat?
Ans: There are many different ways to store your pontoon boat. When storing your boat for a long time one should start with cleaning the boat thoroughly; followed by drying, deflating and then folding them in.
For added protection, you can also use a special protective spray before the same. Once done store them in a dry well-ventilated space. If possible keep them at a distance from the ground; as this will help protect your boat from rats.
During the process try not to drag your boat on rough grounds. In case you prefer to store your boat inflated. Keep it away from sunlight and give them one or two shots of air each month to maintain air pressure.
Q.5. How long do these inflatable boats last?
Ans: The life span of a typical PVC inflatable boat is 10 to 12 years. While a Hypalon boat lasts even longer when properly maintained. But not all pontoon boat last that long as its sometimes we forget to give the proper attention or maintain.
Whether you keep your boat maintained or love to use it rough; they last more than 4 years under any condition. Similarly once inflated they last good for the next 4 to six months. beyond that, you need to refill it again.
One can easily increase the lifespan of his or her boat by following a few things; Do not store your boat out in sunlight, clean your boat after use in saltwater, fold your boat in the proper order ( do not crush or squeeze ).
Also Read:
Do You Know We Write Post On Your Request?