Last Updated on April 22, 2022 by Amit Abhishek
A handheld VHF marine radio is your lifeline at sea; be on ship, water craft or boat sailing, fishing or just doing your job. Whether you need to connect to the coast guards, send rescue signal, talk to other vessels, contact bridge or contact other crew on large ships; a handheld VHF marine radio is a must once in sea waters.
Being mariner i had to use one of these for our daily communication on ship. But while i am on my own boat its more of an emergency instrument; that i can just switch on and ask for help with shore authorities. Whether you have a commercial boat or the one like me for recreational purposes; having a marine radio can be distance between life and death in emergency.
Having a VHF radio not just for boats but also small watercraft such as kayaks; jet skies and other offshore vessel is considered a good marine practice. This is why every boat above 66ft is required by law to carry one with them; and small vessels used for recreational activity are most advised to follow suit.
As a boater we believe you already know the importance of such devices on board. Luckily they aren't so expensive and can be used for a lot many things other than calling for help in emergency. To help you make the perfect choice we have put forward a list of 7 best handheld VHF marine radio to buy in 2019.
7 Best Handheld VHF Marine Radio of 2022
1 ) Standard Horizon HX870
Whether its your pontoon, dingy or any other small boat; you need to carry something that is small, have great battery life and provide clear communication. If you have an appetite to buy something powerful and for the long term; Horizon Hx870 floating VHF radio with its built in internal GPS system is a perfect match for your need.
This Standard Horizon Hx870 is our editor's choice for the best handheld marine radio. Equipped with 1800 mAh battery, DSC dual call facility, Integrated 66 Channel, waterproof design, noise cancellation, USB Data Port with easy to navigate menus and option. There is hardly a match for this product in terms of performance, versatility and life.
Compact and lightweight its big full dot matrix LCD screen with icons and menus; make it simple to operate and easy to learn for all users types. Its water activated signal make the backlit to glow but can also be programed to send SOS signal or Turn on the flash light. Its both waterproof and designed to float; making it easy to maintain under wet conditions.
With these you get a nice portable radio on boat or dock with 66 preinstalled us, Canada and international marine radio stations; with the capability to search and connect with 70 additional marine radio station. The quick panic button allows to send SOS to the authorities and nearby vessels; thus saving time and effort in real emergency.
Standard Horizon HX870: Check Price On Amazon !
2 ) Uniden MHS126 Handheld Submersible
Finally a marine radio that is not just handy but also, easy to operate, glows in the dark, float on water, has large display and most important is in budget. The Uniden MHS126 is my personal best when it comes to great product at great price. With just 1.6 lbs weight you can easily carry them in pocket or keep in hand without much trouble.
The thing i most like about this product is its ability to switch between power on a push of a button. You can switch between its three power option; thus changing its range and battery life. Not just that the battery last at least 11 hours on average and can be charged with both its ac and dc adapters.
While the company guarantees for no damage to its internal parts if submerged in water less than 5 feet for 30 minutes. I tested it to not broke out in my bucket full of water for 35ish ( not sure of exact time ) minutes. The radio came with a preset of 16 channels containing all major U.S and Canadian marine channels.
The additional features such as flashlight, Automatic NOAA weather alerts and power booster; its a pretty decent handheld vhf radio to have as a primary or backup marine radio source. The bad thing about this product is the need to use docking station to charge; rather than providing us with a direct plug in option for A.C charging.
MHS126 Handheld Marine Radio: Check Price On Amazon !
3 ) Uniden MHS75 Waterproof Handheld 2-Way VHF Marine Radio
Uniden have reputation for making tough, powerful and reliable marine products at lower rates; and this marine radio is just one in that line. A simple marine radio that is easy to hold, operate in hand, automatic signal monitoring, have large screen, better battery life, floats in water and also glow when kept in dark.
Made from quality products it is made to last long and does not easily break when accidentally fall on ground. Came with a high capacity battery it last for days once fully charged. With booster antenna and high power capacity you can listen to and connect to harbor as far as 8 to 12 nautical miles from coastline.
With Uniden MHS75 you are getting a durable product that have excellent company support, 3 safety channels, NOAA warning indication, easy to use 12V charger and standard maritime functions expected in any good VHF radio. Equipped with all U.S, Canada and other international maritime channels; its perfect to keep it on your fishing adventure.
Overall i feel quite satisfied with the product for what it offer me for the price; large screen, good speakers that give noise free sound, weather alerts and long battery life. But i do will acknowledge it came with limited charging option ( Only D.C ) and does not have as many features as of the standard Horizon Hx870.
Uniden MHS75 2-Way VHF Marine Radio: Check Price On Amazon !
4 ) Standard Horizon HX300 VHF Radio
Designed purposely for coastal cruising; its small, light weight, programmable, compact and waterproof handheld marine radio. With excellent clarity, mini USB connector, quick charging, multi channels and simple navigation menu; its a perfect portable radio for the price range to communicate between boats and with authorities in emergency.
Well known for its compact ergonomic design this can work for 5 to 8 nautical miles in open sea. Equipped with 1560mAh 3.7V Li-ion battery; it can keep monitoring all 16 channels all time and still last for a day. A waterproof design with ability to float it let you not worry too much when the wrist strap is just too small.
Really if it wasn't to be its floating ability that makes it easy to rescue; anyone including myself will get feed-up with that small strap it came with by default. Other than that little discomfort its fairly a nice unit to have for your own boat. You can not just can charge it at home with A.C but also in your car easily.
Another great feature of this radio is its ability to connect seamlessly with up to 10 NOAA weather channels. This together with dedicated button for channel 9 and 16; makes it really handy to stay connected in bad weather or adverse condition. Most important we appreciate its large buttons and excellent backlit display that really makes it much easier to use.
Standard Horizon HX300 Handheld Marine Radio: Check Price On Amazon !
5 ) Cobra MRHH350FLT Long Range VHF Radio
The cobra has not match to others when it comes to budget VHF radio for maritime purposes. The MRHH350FLt is just one in that line of best cobra products. It has all that you ever need to go out on the boat; ease of use, rechargeable batteries, long range, waterproof design, international coverage and NOAA weather alerts.
Best in its class, it does not need to charge for up to three days and even show some battery left. Equipped with advanced features like BURP, memory scan, unlimited channels, auto weather alerts and large display; there is no wonder why many boating association around the world promote this product.
But just like every coin has its other side, this light handheld marine radio too have a side; not appreciated much by boaters and mariners like you and me. The output sound is just functional and not too loud, lacks in many advanced features including g.p.s, average build quality and does not have range as long as other product i mentioned above.
Being said that i must also conclude it have everything the company possibly can provide us for the price. This is a product designed for those who like to buy most advanced gig at the lowest price possible. So unless you have advanced used like than on commercial vessels and large ships; its fairly enough and good choice for your own boat.
Cobra MRHH350FLT Long Range VHF Radio: Check Price On Amazon !
6 ) ICOM M36 VHF-HH Marine Radio
A little bulky and a little costlier than others budget marine radio; its a quality product from ICOM that work flawlessly and sounds loud and clear. Design to withstand extreme marine conditions including rough use; you hardly will get any chance to complain about its quality. Easy to program its simple, straightforward and something not difficult to work with.
The ICOM M36 has a nice slim body that fits well in your hand and its intuitive user interface makes it easier to operate. This simplicity with lack of need for any complex programing and straight forward function keys; makes it really simple to operate and understand by any skilled or non skilled individual.
This handheld radio is just robust waterproof design with capability to stay safe for more than 30 minutes in up to 3 feet of water. With ability to operate it with dual or triple channel VHf radio; the DSC functionality allows to receive and send distress call seamlessly to all nearby vessels and the authorities ( coastguards / harbor ).
Overall, It let me feel really empowered being a simple looking professional grade marine VHF radio. Furthermore the inbuilt features such as range/power booster, automatic weather alerts, battery saving mode, Noise cancellation and integrated GPS makes put is far ahead of its competitors in the price range.
ICOM M36 VHF-HH Marine Radio: Check Price On Amazon !
7 ) Cobra COB-MR HH350W FLT VHF Radio
Not the cheapest one in the market; but yes the cheapest one you can get with all the latest technology embedded. What you get with COB-Mr is a good rugged marine radio with a ton of functionality. So if you don't mean to do something fancy or have the very best marine radio; its fairly functional and do its job as expected.
After all whats the use of buying expensive smartphone when you all need to do is to just call. You can do it with the most basic marine radio; but since we all like to have at least some advance features in our VHF handheld radio. I find this gig in the market which just fit the job on a variety of boats and kayaks for the lowest possible price tag.
The cobra COB-MR HH350W is equipped with advanced features such as GPS and digital selective calling or DSC in short. A versatile solution that came with long range antenna, digital compass, way-point navigation plus; all U.S, Canada and international channels preinstalled in the device.
Equipped with unique technology such as BURP allows the water to be easily expelled out of the speakers; in even the water get inside or it fall in the water. With all being said the only thing on which i can comment negative of this product is that; while it allows clear sound its not that loud as others radio-set.
Cobra COB-MR HH350W FLT VHF Radio: Check Price On Amazon !
How To Choose The Best VHF Handheld Marine Radio
When you are buying a new handset Radio for your boat one should always keep a few things in his or her mind. To make an educated decision its important to know and ask what is your need? A commercial boat can have different needs than a recreational one; and so different models are available in the market to meet specific needs.
Does it float?, Is it waterproof?, Does it contain three or dual function, Will it float?, How long does the battery last?, Can it give automatic weather alerts?, Can it be programed?, Does it have GPS etc. These are some important questions you should ask to yourself; before making any final decision.
We have thus review and listed the above products based on these parameters. I personally research and tested each Handheld Marine Radio on each parameter and ranked accordingly. Since they are some of the basic necessity of any modern marine radio; we also look on additional aspects such as its range, BURP, DSC facilities and Noise cancellation before making our final list.
Our first priority while preparing the above list was its features then display, ease of use, range, Cost, practicability, weather alerts, Active channels, GPS, DSC, Battery Life followed by all other aspects of a handheld marine radio. Overall i have came up with a list well suited for all; small boats, to large ones and even used for commercial activity.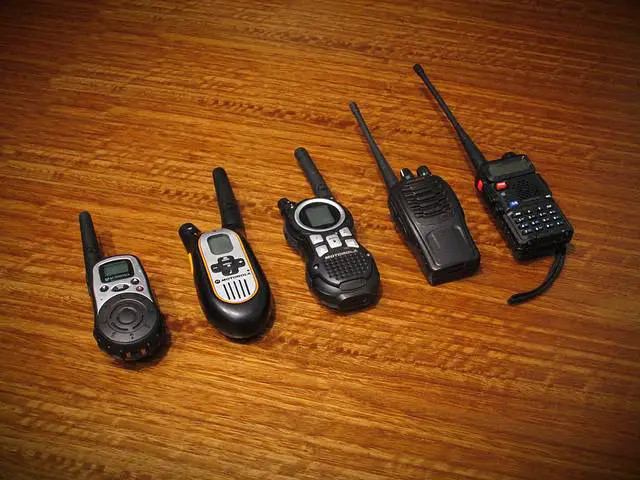 Frequently Asked Questions?
Q.1. How powerful should my radio be if typically i do not go too far from the shore?
Ans: A marine radio can go as far as of 25w as installed and used on most boats and ship. Similarly most common handheld marine radio goes as far as 6w in capacity. Having a higher power capacity increase the total range of any radio without doing much about other affecting factors.
Thus since usually you do not go too far from shore any average marine radio with 4w capacity will be just fine. But if you don't want to take any risks and prepare for a little longer distance; a 6w capacity will be appropriate. I see many people who tends to buy the most powerful marine radio available; but its not much of use if you just use your boat for recreational or fishing purposes near to the shoreline.
Q.2. Is DSC ( Digital Selective Calling ) so important for handheld marine radio?
Ans: For larger vessels its a necessity but for average boaters like you and me with our pontoon, dinghy and kayaks its just not. So should we have it or not? Off course its a major functionality which allows you to send automatic distress signal to authorities and nearby vessels; all with a push of a button when in emergency.
So its a major functionality you should look for but not that important though as even without them; you can simply send distress call in seconds. All it do is to save you some seconds of work navigating though menus to get things done; much like the shortcuts we all have on our desktop ( Windows users will understand ).
Q.3. Do we really need a handheld radio?
Ans: A good question to begin with when you have choice to have; either a fixed high power marine radio, a single handheld radio or both? Well i first like to congratulate as you already know the importance of having a marine radio. Otherwise you would not have been here looking for one of a particular type.
Large boats, commercial boats and the ones which go deep inside the sea are required to have a high power fixed marine radio installed on their boat. But even for them its not enough and there is always another question of how to carry them when you have a small vessels like kayaks or small dingy.
Handheld radios are portable, can be carried on and off the boat, easy to operate, light weight, can be used for as far as 12 miles from the shore and have a tones of features just like the fixed marine radio's. Worth noting, its always easier to communicate and operates with a light hand held device than a fixed installation on board; when there is no restriction of range.
Q.4. Do we need to have a license to operate any marine radio?
Ans: Luckily you do not need to have any license to buy and operate any marine radio; unless you have boat used for commercial activity or a large ship which mostly operates in international waters. That being said you still do require to generate a 9-digit unique identification number also called as MMSI with coast guard; to help identify your DRS distress signal.
Not all handheld marine radio are required to do it as many came without DRS feature. But having a DRS function on your device and its number being registered; you will be mush more secure and safe in time of emergency. A DSC is apart of Global Maritime Distress Safety System; that replace the hassle to call and tell your problem over voice to digital distress signal containing your 9 digit unique identification number and GPS coordinates.
Also Read:
Do You Know We Write Post On Your Request?