Last Updated on June 5, 2020 by Amit Abhishek
Ultra-large Container Vessel or ULCV has changed the way goods are transmitted around the world. Since the introduction of container shipping in 1956; there has been a never-ending race to built bigger, more efficient container ships. Thus producing some of the largest container ships world have ever seen before.
A container ship is a non-bulk cargo vessel designed to carry dry cargo in the form of shipping containers. In fact, 99% of all non-bulk cargo is transported using these shipping containers; of which 90% alone is transported using a container ship.
Worlds first true container ship SS Ideal X was capable of carrying just 800 TEU Capacity. Overtime with an increase in global demand, better technology, and race to produce the world largest container ships; most modern ships can easily handle 15,000-21,000 TEU capacity.
Based on its size a container ship is of 6 main types namely; Early Container ships, Panamax, Suezmax, New Panamax, VLCS and ULCS ( Ultra large Container Ship ).
The record for largest container ships in the world stands with MSC Gulsun together with its sister vessels. It is part of the contract for 11 sister ships of which 6 have already been delivered till March 2020. These are all ULCV/ULCS ships with 23,756 TEU capacity. Such large capacity is now possible as a result of the new Suez canal.
Here we look at the Top 10 world's largest container ships as of May 2020.
Top 10 World Largest Container Ships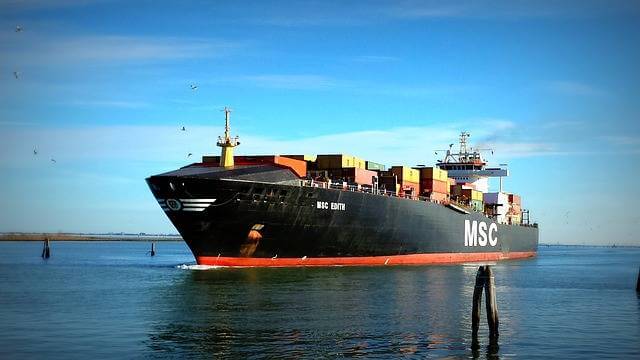 1. MSC Gulsun
MSC Gulsun is currently the world's largest container ship with its 23,756 TEU capacity. It length 399.9 meters, width of 61.5 meters across the beam and has 232,618 GT.
Built by the Samsung Heavy Industries in South Korea; it is an engineering marvel of the Mediterranean Shipping Company.
It is the first of 11 sister ships contract given by the MSC of which 6 are already delivered till now by the Samsung Heavy Industries. With a beam of 61.5 meters, it's just a little under the maximum permissible limit of the new Suez canal.
It was delivered in June 2019 and operates under the flag of Panama.
The MSC Gulsun is the worlds first container ship which can store 24 containers side by side across its width. At its full capacity, the ship can store 23,756 containers distributed across 24 rows.
To comply with the latest regulations the ship has hybrid Exhaust Gas Cleaning System; reducing net CO2 emissions by 13%.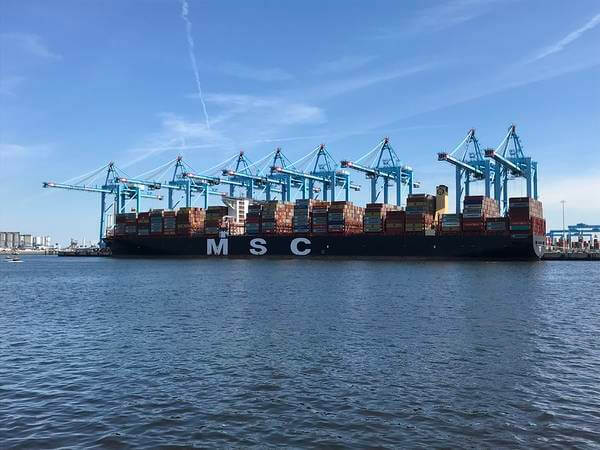 2. MSC Mina
The MSC Mina is the first sister ship of MSC Gulsun delivered in 2019; but has slightly less length, width and capacity.
The vessel length 399.8 meters, width 61 meters and has 228,741 maximum TEU capacity. With these specifications it ranked worlds second largest container ship.
This ship is also built by the Samsung Heavy Industries located in South Korea. It too can accommodate 24 rows of container but with a height of 13 containers per row. The ship operates under the flag of Panama and was delivered in Aug 2019.
The vessel focus on having the greater efficiency, stability and safety features with lower emissions. It offers such high energy efficiency by lowering hull resistance.
Additionally, the vessel has double hull protection around the engine, a new dual-tower fire fighting system, and a 3D hull condition assessment program. It is a GL Class ship with IMO number 9839260.
3. OOCL Hong Kong
The OOCL Hong Kong used to be the largest container vessel before the introduction of MSC Gulsun. It's one of 6 G-Class sister ships built by Samsung Heavy Industries for the Orient Overseas Container Line or OOCL.
It's was the third ship to surpass the mark of 20,000 TEU capacity and worlds first to surpass 21,000 TEU mark. Delivered in 2017 it operates under the Hong Kong flag.
The ship lengths 399.87 meters, width 58.8 meters and has a height of 73.5 meters. Further, it includes a Wartsila-Sulzer RTA96-C engine and has a net carrying capacity of 21,413 TEU units.
According to the OOCL, it will serve mainly in between the trade routes of East Asia and Europe under china one belt one road initiative. Here it can accommodate 23 rows of container side by side across its width.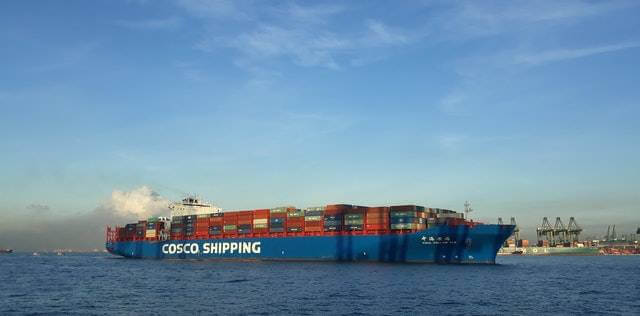 4. COSCO Shipping Universe
The COSCO Shipping Universe with its 21,237 TEU capacity is the largest container ship in china. It is the first Chinese container ship to ever cross the mark of 21,000 TEU capacity.
Built by the China State Shipbuilding Corporation (CSSC) it lengths 400m and width 58.6m with 198,000 tons DW. The vessel was delivered To the COSCO shipping lines in Shanghai in 2019.
The ship operates under the flag of Hong Kong and is equipped with most modern systems.
It has an advanced pilot control systems, ABB turbochargers, intelligent efficiency management systems, real-time surveillance, and better monitoring and alarm systems.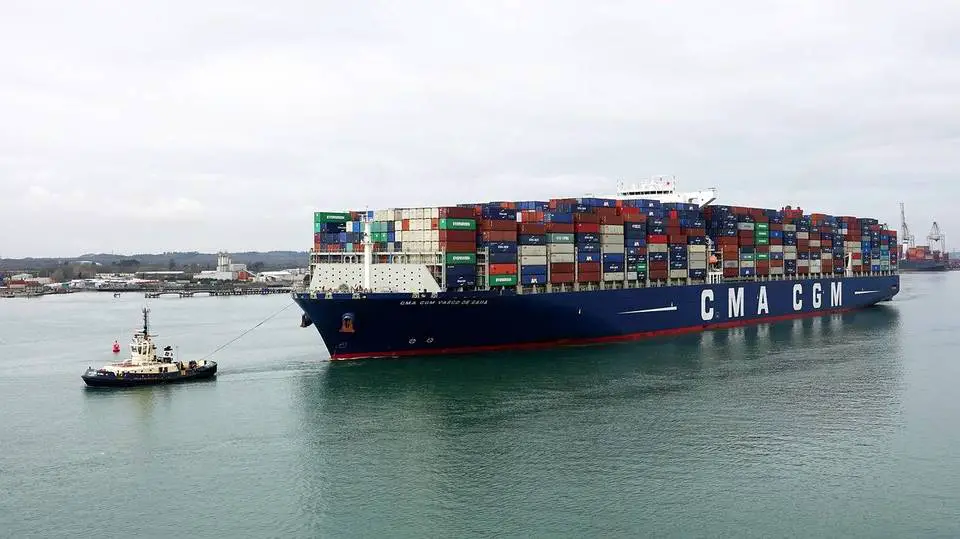 5. CMA CGM Antoine De Saint Exupery
This giant ranks fifth in the world largest container ships list and is named after "Antoine De Saint". A french writer renowned by several literally awards and had won United States National Book Award.
Built by Hanjin Heavy Industries it is currently the largest container ship to operate under the French flag. The vessel length 400m, width 59m and has a total capacity of 20,954 TEU.
Operated by CMA CGM ( A french based shipping company ); it sails on one of the longest sea routes connecting Europe to Asia. This ship came into service in 2018.
The ship is equipped with state of the art technology, new generation engines, a becker twisted fin, and a more efficient ballast water system. Thus consuming 25% less fuel and emits 4% less CO2.
6. Madrid Maersk
Madrid Maersk is part of Maersk Triple E-class large container ships. It is the first of its 11 sister ships delivered in 2017.
At the time of delivery, it was the worlds largest container ship; but surpassed shorty with the delivery of OOCL Hongkong.
The ship length's 399m width 58.6m and has a capacity of 20,568 TEUs. Built by Daewoo Shipbuilding & Marine Engineering Co., Ltd in Korea it's world second container ship to surpass the 20,000 mark.
This ultra-large container ship ( ULCS ) operates under the flag of Denmark.
The ship focuses on the economy of scale, environmental protection, and efficiency. It made its maiden voyage from the port of Tianjin in China.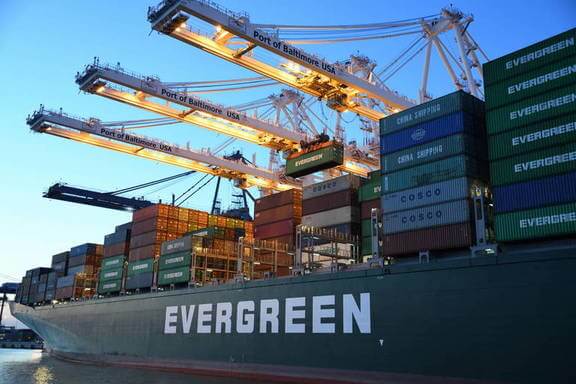 7. Ever Golden
This Taiwanese ship is another giant with its capacity of more than 20,000 TEU units. It lengths 400 meters, width 58.8 meters and has a net total capacity of 20,388 TEU units. Further, it has a gross tonnage of 217,612 and 218,000 MT Deadweight.
It is first among the order of 7 sister ships given by Evergreen to the Imabari Shipbuilding Co. Delivered in 2018 it has a maximum speed of 21.4 knots.
This is among the largest ship of Evergreen Lines responsible for China-Europe-Mediterranean routes. All 7 ships had been delivered in between 2018-2019 of which one operates under the Liberian flag, another under Singapore flag and others under the flag of Panama.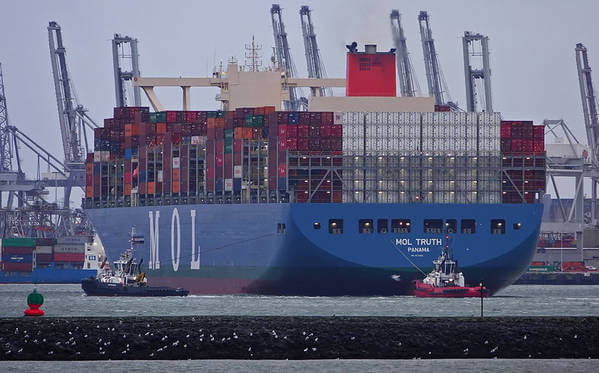 8. MOL Truth
Delivered on OCT 31 2017 by the Saijo Shipyard of Imabari Shipbuilding Co., Ltd; it is the largest container ship of MOL. Operated by Ocean Network Express (ONE) under Panama's flag; It's among the elite club of some early containership to cross the mark of 20,000 TEU.
The vessel lengths 400m and has a breadth of 58.5m with a net capacity of 20,182 TEU. Further, it has a DWT of 189,766 MT and 210,691 Gross tonnage.
This large giant operates on some of the busiest trade routes of Asia-Northern Europe. The ship is equipped with most modern technologies and features to reduce emissions, boost efficiency and reduce its impact on the environment.
This includes features such as optimized hull design, low-friction hull pain, efficient engines and a high-efficiency propeller. Further it also allows for quick and easy conversion to LNG fuel.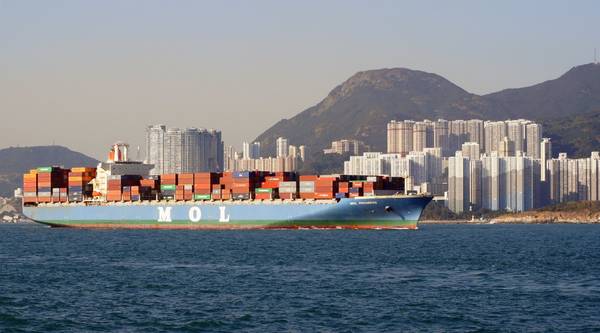 9. MOL Triumph
MOL Triumph is the second most ship in its fleet in terms of Container capacity. Built-in 2017 by the Samsung Heavy Industries, Korea for MOL; it now operates under the Ocean Network Express. A Japanese based company formed when MOL, NYK, and K-Lines came together to merge their liner trade business in 2016.
On her maiden voyage, it sailed from Xingang to Northern Europe ( Hamburg, Southampton, Le Havre, Tangier ). The ship lengths 400 m and width 58.8m and a net capacity of 20,170 TEU.
The vessel is the worlds first mega-ship to ever cross the 20,000 mark. Equipped with MAN B&W G95ME engine it offers a maximum speed of 24 knots; that is achieved from its 82,440 kW engine power.
Alike MOl Truth it has an efficient hull design, high-efficiency propeller, low friction underwater paint, efficient rudder, and retrofit LNG fueled option. The vessel sail under the flag of the Republic of the Marshall Islands.
10. Ever Glory
This large ship ranked 10th on our list of top 10 world largest container ships. Carrying the Liberian flag this is another marvel of Evergreen Line. Introduced in 2019 it's among their biggest ships in operation next to the Ever Golden.
The vessel lengths 400 m, width 58.9m and has a carrying capacity of 20,160. It can store 22 containers side by side across its width.
Built by Japan's Imabari Shipbuilding its a mono hull construction. It is one of the four sister ships; Glory, Govern, Globe and Greet. The deadweight of the vessel is 198937 Mt and has a gross tonnage of 219,775.
Further, it is equipped with efficient engines and is equipped with scrubbers; one of first in evergreen mega-ships fleet.
Also Read:
Do You Know We Write Post On Your Request?