Last Updated on November 22, 2018 by Amit Abhishek
A hose is a flexible tube used to transfer fluid from one place to another. On ship hoses are used at times for drains, fresh water supply, fire fighting, exhaust outlet, bunkering and cargo operation. Different standards of hose are used for above specified jobs; following one or ore rules and recommendations. A marine hose has to go through a series of test including; adhesive test, bending test, hydrostatic test, electrical test, vacuum and weight test before certified for use.
While most hoses look similar on first look but the hose used for cargo operation is different from what used for bunkering. In older days of steam ships fuel in form of coal were stored in a compartment called bunker. With time the term bunker become synonym with fuel and; the process of transferring fuel to the ship being called bunkering. I have already explained in details about bunkering, its procedure, types, risks, precautions and checklist; in post "Bunkering Operation : Precaution, procedure & Checklist".
Standards For Marine Hose Used In Bunkering Operation
Due to close relation with risks involved and environmental pollution; marine hoses caring fuel must be from reliable sources. These hoses need to have date of manufacture and batch number printed on each of them. They are subjected to be certified by local authorities, Marpol, ISO, AQ-2130, and BSEN1765 standards to be used in merchant and Navy ships.
These certificates account for a definite standard for bunkering hose. Such as, limitation of minimum aromatic content accommodation, temperature limits, restriction on material used for construction of hose fittings; and working pressure with maximum and minimum pressure limits. Apart from this these hoses are subjected to strict check for electrical conductivity, pressure and bend test; from independent third party source before being dispatched to distributors.
The receiving ship can ask for information regarding the hose along with its test certificates any time during the bunkering operation. So to insure continues use of hose line hydrostatic test must be carried each six months followed by other test each year. OCIMF guidelines can be used on board / barge for best hose practices in and off the transfer operation. During the operation it is suggested to use ship crane for hose support; with an practice of using new gaskets at hose connection.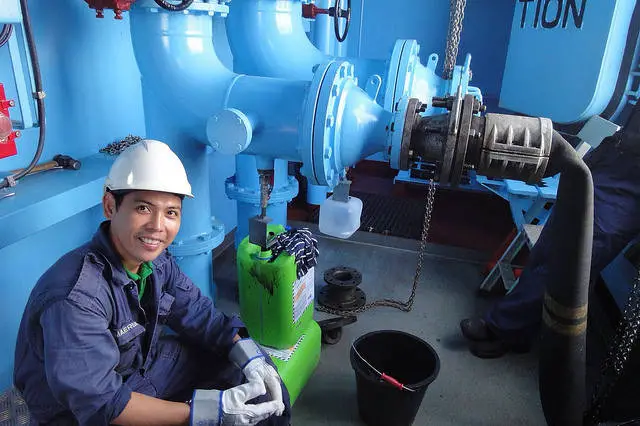 How To Choose The Right Hose For The Purpose ?
Irrespective of the hose application; you will feel overwhelmed by the options available in the market. While there are many grades and type of hose available; you need to pick the one which best serves your need. You must start by asking yourself what length of hose is required with inside and outside diameter specification. What is the temperature of product it will carry and what would be the atmospheric condition. for example different grade of bunkering hose is required for arctic regions than of tropical and subtropical seas.
Find the exact application of the hose during bunkering; i.e whether it is to be used with ship to ship bunker transfer or with stern line bunkering. Hose line for stern line bunkering have additional layer called float media to assist it in flotation; which normal bunker hose lack. Ensure the hose is electrically safe and does nor store substantial charge during the bunker operation. Determine whether the working pressure of the operation is well within the safe working limits of the hose.
Non helix collapsible hoses are used for bunkering operation. They are usually ten meters in length but also came with other non standard length options. Reinforced with multiple layer of polypropylene fabrics they can be operated with fuel up to 70 degree centigrade. Some bunker hose such as composite material do come with polypropylene with wire helix. These hoses are much more lighter and flexible than that used for cargo operation; with electrical resistance between flanges not exceeding 1 Ω for electrically continues hose type.
For electrically non continues type of bunker hose the resistance should not be more than 24,000 Ω in between end flanges. Make sure the hose contain important marks on them; such as trademark, manufacturing date, serial number, test procedure with electrical continuity marking.
Safe Bunkering Procedure – Hose And Pipes
Marine fuels are thick and heavy requiring special transportation and supply procedure with heating requirements. Currently a large portion of ship bunker at sea; through ship to ship transfer or stern line bunkering. Irrespective of the method or bunkering type; proper bunkering procedure with proper hose handling is required to contain the risk involved. Marine fuels are preheated during bunkering procedure; thus any form of spill not just cause environmental hazard but also possess health risks.
Thus it is required by the duty officer to ensure whether the hoses are suitable for bunkering operation with all necessary markings and certificates from concerning authority. Make sure it is of sufficient length to transfer fuel from one ship to another with some room for movement. Once ensured secure the barge along the ship side; transfer the hose connection to the ship with adequate support with no sharp edges. Ensure that only certified gaskets and tighten bolts are used to secure the hose.
Make sure the hose is joint free for the first one meter from the ship and barge with no joints in the gap in between them. Proper plan should be available to contain and stop the oil spill with emergency shut down arrangement. Start transferring bunker fuel at slow speed and check for any possible leakage. Once satisfied slowly increase the flow rate to the desired value agreed upon by the receiving ship. At no time during the bunkering operation; the hose pipe to be over pressurized or being subjected to varying supply pressure causing pressure shock.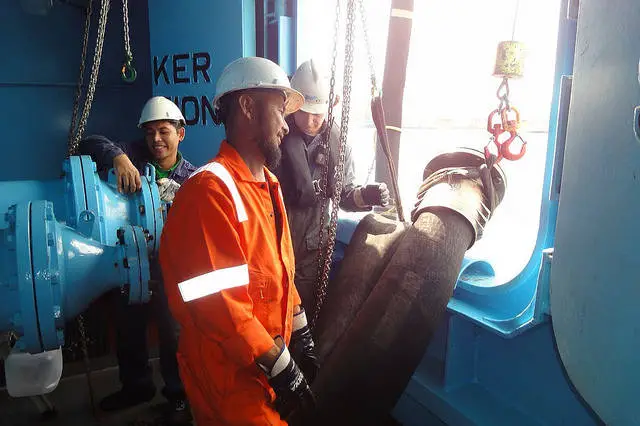 Best Practices For Handling Marine Hoses
All marine hoses including that used for bunkering require proper consideration and care for prolonged life. So one should avoid situation such as kinking of hose to its fittings, dragging or pulling hose on rough or abrasive surface; subject to load and twist at all cost. The life of hose is greatly reduced due to unnatural bending, heat, prolonged sun exposure and too high working pressure. So it is recommended by hose manufacturer to store them at cool and dry place after visually inspecting for any signs of damage, crack, cut, corrosion and twist.
If you look for answers regarding hose safety and housekeeping; you will find the same points over and over again for different products across companies. Well what does this means? This means these points are tried and tested method of safe working practices with marine hoses. The list includes points such as; visual inspection before each use, always use appropriate hose fittings, store it in flat coil under cool and dry state with a need to replace with a new one in case of doubt or need.
Know your hose limits up to which it can perform well and from when it starts to show signs of wear and fault. Refer to the instruction manual and other handling guidelines provided by the manufacturer and concerned authorities. Use pressure relief valves if possible to quickly release the increasing pressure on the hose line; if required. Be watchful of your hose condition and be prepared with alternatives and counter measures; to deal with situation in case of fault and failure during the ongoing operation.
Conclusion
Being a major part of ships operation cost; bunker fuel is required to be supplied in consultation with ship authorities such as captain and chief engineer. Since bunkering came under Marpol regulation 1; it is required by the ship and bunker barge to control and avoid accidental oil spill. Best bunkering practices inducing proper hose handling and housekeeping plays an important role in compliance with these regulations.
Only certified hoses fit for bunker supply should be used for the operation with test conducted regularly to test its operation continuity. Operating personal and crew must be aware of the risks and steps to be taken in case of emergency. Thus it is required to follow the guidelines of local authorities, Marpol, ISO, AQ-2130, and BSEN1765 for hose standards and use to maintain safety at Sea.
Note: The article is produced on Request From Tariq Khan.
Also Read:
Do You Know We Write Post On Your Request?