Last Updated on April 22, 2022 by Amit Abhishek
Looking for a boat umbrella that gives you the best sun protection? We have come with the list of top 10 marine boat umbrellas; that is 100% satisfaction guaranteed.
With spring almost upon us, we boat folks start to prepare ourselves and our boat for the next summer adventure. At first, it's all cool and refreshing but soon the heat is already there by the end of March.
After the first few hours of boating, almost everyone realizes the need for a shade. Of course, your sunscreen will help but you still feel the heat out on sunny days.
I see many times people complaining about the heat when sailing or on a boat trip. But sometimes people don't even realize that they gonna get sunburn; when exposed long to the sun.
A boat umbrella does not provide just shades but also lasting UV protection. They are easy to assemble, adjustable to fit any sun direction, wind-resistant and are mostly rust free.
The boat umbrellas on this list will give you shades even when put under heavy winds. Some are simple in design, many easy to mount while others offer multiple tie-down straps for heavy-duty securing mechanisms.
While there are all kinds of solutions for shades it all drops down to your need, boat size, and taste. So go for the boat umbrella that suits your application, is of right shape/size and is easy to install.
Top 10 Best Boat Umbrellas To Consider In 2022
1 ) Hospitality Rattan Hydra Shade XL-150 Boating Umbrella
A good boat umbrella gives you enough shade to protect against the sun. So when enjoying water you can spend more time relaxing. The Hospitality Hydra Shade XL-150 is just the thing you need to keep it cool and enjoy.
Designed to fit in any rod holder it can be set anywhere on the boat. You can also fit them with ease into a fishing rod holder. Although for some you might need to put an extra effort due to the 30-degree angle.
The boat umbrella is mildew resistant and rust-free. This means it won't easily fade in sunlight or strain. While the telescopic height adjustment with tilt control; offers all-round protection against the sun.
Made of aluminum and stainless steel it's light yet sufficiently strong to withstand heavy weather conditions. The best thing is it can be easily adapted to all kinds of boat types.
While made for marine use you can also use them to create shades on sand bars and braches. The heavy-duty polyester fabric is waterproof; mildew and U.V protected. This means it reflects off the harmful U.V rays coming from the sun.
Some of the key features of Hydra Shade XL-150 Boating Umbrella are; durability, water-resistant, mildew, easy setup and unfold, stays sturdy against the breeze and has maximum shade area.
On the downside its just one the best for the price and produce little noise in strong winds. Overall I find it to be a good product that lasts long, does its job and provides reasonable protection against the sun.
Hospitality Shade XL-150 Boating Umbrella: Check Its Price On Amazon!
2 ) Dolphin Pro2 T-TOP Tower Bimini Canopy
Looking at something for the long term? Then this T-Top tower bimini canopy is a great fit for your center console boat. A pretty solid construction it's easy to assemble and can be installed in just 3 hours.
Designed to fit on medium to large center console boats; it can fit on boats up to 47m wide. Dolphin Pro2 T Top with a blend of curves looks great on any boat type.
Whether you buy your fishing boat with T Top preinstalled or install it afterward. Having one gives your boat a distinguished look and provide much-needed shade for better comfort and enjoyment.
With the easy zipper and velcro construction, there is no unnecessary work installing the Top. The two-inch anodized mainframes then can be locked with the 4 side standoffs to the center console.
Some of its key features are the large grab handle, the ability to attaches directly to the floor, heavy-duty frame, support standoff arms, removable cover, and a pivoting folding system.
Made from only high-quality UV and mildew resistant marine material. It is designed to protect your boat and you from sun, dust, and debris. Overall it's a fine product, very well constructed and is good T-top for the money.
On the downside, this does not come with a nice instruction manual. This means you either need to contact the company ( respond quickly); or follow articles or videos online.
Dolphin Pro2 T TOP Tower Bimini Canopy: Check Price On Amazon!
3 ) Sport-Brella SPF 50+ Adjustable Umbrella
Sport-Brella Versa-Brella SPF 50+ is all position versatile umbrella for any outdoor activity. If you like to travel a lot and are always on the go then this umbrella is just what you need.
Built for performance its lightweight, easy to install and durable. With a universal clamp you can connect it to any surfaces; be it on the boat, outdoor chair, stroller, beaches, etc.
Now with 360 degrees 4-way swivel and UPF 50+ lining; you get all-around maximum protection against the sun. It blocks 99.5% of UVA and UVB light coming from the sun that may damage your skin.
The best thing I love about this boat umbrella is its polygonal shape; which helps it stay in place even in the strongest winds. The other one is the low price which is in budget and doesn't hurt.
In addition, it features a strong canopy and a heavy-duty clamp; that doesn't fall off or tear apart. It features strong spines that don't break. The umbrella is thus not just strong but is easy to fold and store.
Some of the key features of the Sport-Brella SPF 50+ Adjustable Umbrella are; bigger shade for sun protection, universal attachments for every surface type, 360-degree adjustability and low price.
Overall if you hate renting an umbrella and want nice sun protection for your boat and beach; It's a great umbrella to have as your portable outside tool.
Sport-Brella SPF 50+ Adjustable Umbrella: Check Its Price On Amazon!
4 ) Taylor Made AnchorShade III Sun Shades
Taylor made products are always been known for their quality and performance. Designed to be used as anchor shade it's versatile and can be used on almost any water vessel.
Made from high-quality marine-grade material it blocks and protects against 90% of harmful sun rays. Lightweight by design it is quite easy to put up and takedown.
The attachments are pretty good and are made of noncorrosive materials. This means not just it's easy to lock on to anyplace on the boat but will also take on the abuse of salt and wind.
The Market-style top with adjustable straps makes it more flexibility when mounting. While the unique top design allows for ventilation without losing on sun protection.
On the downside, this umbrella is somewhat difficult for beginners setting it up because of the lack of clear instructions and complex design. But once you learn how to do it; it's as easy as riding a bike.
Some of the key features of this boat umbrella are; adjustable pole, lightweight, mildew resistant, non-corrosive hardware, excellent sun protection, market-style top, and mounting flexibility.
Taylor Made AnchorShade III Sun Shades: Check Price On Amazon!
5 ) Leader Accessories 3 Bow Bimini Top Boat Cover
Leader Accessories is known for some time to bring high-quality products at competitive prices. The bimini top boat cover can be easily deployed and looks great on a boat.
In fact, the whole assembly can be done in less than 30 minutes. On most sunny days this bimini top is just perfect for your friends and family; enjoying time on the boat away from the scorching sun.
The canopy comes in 13 different colors and features Marine-grade 600D polyester fabric. This ensures it does not fade in sunlight and protect against 90% of harmful UV rays.
Available in 6 different sizes with 2 quick-release mounts its easy to set up and has impressive looks. Furthermore, it includes double overlapped stitching and is anchored with four nylon straps.
Its double-walled main bow legs and 1" aluminum frame; offers maximum strength and keeps it sturdy in changing weather condition. The model comes with all stainless steel mounting hardware.
This not only makes it easy to install but ensures it lasts long. Some of the key features of this bimini top are; quality fabric, easy installation, stainless steel hardware and came with everything it needs to install.
Overall, it is an excellent value for the price which worth every penny; concerning its quality and the kind of protection it gives. It's just great for your boat, raft or fishing pontoon.
Leader Accessories Bimini Top Boat Cover: Check Its Price On Amazon!
6 ) Seamander 3-4 Bow Bimini Boat Top Cover
A little more expensive than earlier; its a wider bimini top with a larger option for sizes. The seamander bimini boat top comes with an anodized aluminum frame and marine-grade waterproof fabric.
The bimini is idle for anyone looking for an extensive cover for his or her boat. While mostly used for pontoons, Jon boats, bassboats, and center console boats; it can be mounted on any boat type.
Not a single part of it is made from plastic ( All Stainless Steel Mounting Screws and eye hooks with nylon fittings ); that ensures it stands good on quality and lasts long.
In place of standard frames, it includes 1″ aluminum extrusion. Which when included with the marine-grade PA6 fittings; offers superior strength, sturdy fitting, rigidity, and durability.
Available in 10 different sizes it is built to provide greater shade or maximum sun protection. It also includes nylon deck mounts, a storage bag, spring clips, and a rear support pole for extra support and stability.
Some of the key features of this Bimini top are; great fit, quality product, sturdy, easy to install, waterproof, mildew resistant, Protect against 90% harmful UV rays, heavyweight and looks great.
Seamander 3-4 Bow Bimini Boat Top Cover: Check Price On Amazon!
7 ) Primo Wearable Hands-Free Umbrella
A simple yet effective solution for sun protection it is idle for one person fishing in lakes and river. This handsfree umbrella set is comfortable to wear and very handy for working in rain.
It's a pretty good umbrella at 42″ size especially when you can easily replace it with a custom one. Made of impact cloth it does not fade in the sun or rain; and acts as an Effective barrier against UV rays.
The frame is of stainless steel coated with plastic to ensure; it's not just strong but also does not rust. It features a three-fold umbrella, softly-padded shoulder, adjustable straps, and a fasting buckle.
The best part is its cheap, effective and idle for a single person and does not look ridiculous. Without a doubt, it is very useful against rains, dust, and sun ( Especially in summer ).
Its sturdy, novel and awesome at what it is meant for; but I personally find it needs a little fine-tuning for the best results. If you are looking for something personal or to gift; its a fair choice for the price.
The only thing I or anyone else would hate about this is its smell; it smells horrible when brand new. For me, it takes around 2-3 days to be usable; I feel its due to the packing material or some protective layer.
Overall it is a good concept for anglers who like to do it by themself alone in the water. Not the very best thing you can have buts is flexibility and proves to be very useful.
Primo Wearable Hands-Free Umbrella: Check Its Price On Amazon!
8 ) Taylor Made T-Top Shade Kit
Easy to put up this offer an economical and versatile solution to your boating needs. Whether it's the bright sun that is cooking you or the rain which keeps you drowning.
It got you protected under all weather conditions. Thanks to its simple design and wide width. It goes up easily and offers greater cover; making your trip more comfortable.
While other solutions make noise ( especially in mid to low price range ); it is one that is quiet and has no such issue with fitment. Made from 100% polyester the resilient T-Top is designed to handle harsh marine conditions.
Designed for UV-protection the fabric is coated with an outer reflective coating. This makes it reflect up to 75% of all sun rays; blocking up to 98% of harmful UV rays while keeping it cool.
Furthermore, it's quite breathable and elastic; which makes it fit almost all boat types while mostly used for the center console boat. Available in three different sizes it came in with everything you need to install.
On the downside, it came only in black color and a little more expensive for its type. Also, it does not look as good as a permanent T-Top Bimini Canopy. The good thing is you get the best product for the price.
Taylor Made T-Top Shade Kit: Check Price On Amazon!
9 ) Sport-Brella Versa-Brella SPF 50+ Adjustable Umbrella
If you are not going for something fancy or longterm; this boat umbrella is all that you need for the shade. It's portable, versatile and can be easily attached to any surface.
Just attach this to your boat, chair, stroller, bleachers or golf bag and get a little patch of shade for the time being. The versa-brella offers SPF 50+ protection; meaning it restricts 98% of all harmful UV rays.
It features four-way 360-degree swivel with easy push-button hinges; so as it can be easily adjusted to face against any direction of the sun. The spines of this umbrella are strong and can easily take strong winds.
The umbrella can be easily attached to most surfaces tubular or squared. It also has a strong canopy that does not tear or rips apart. made from marine grade fiber it does not easily fade in sunlight.
Being portable it is easy to store, set up and carry. The clamp is good and stable which holds it well under heavy winds. On the downside, it has a very awkward shape which makes it unsuitable for protection against rain.
Some of the key features of Sport-Brella adjustable umbrella are that; its cheap, reasonably fair product for the price, universal attachment for every surface type, 360-degree adjustment, etc.
Sport-Brella SPF 50+ Adjustable Umbrella: Check Its Price On Amazon!
10 ) Magma Products Cockpit Umbrella
The manga cockpit umbrella is a perfect alternative for shades; when you do not want the bimini up. Very well engineered its high-quality stuff, stable, provides lots of shades and is easy to move around.
With clamps and corner straps, the mount can be adjusted to fit any angle on the horizontal rail. While the quick-release round rail mount makes it easy to adjust, mount and release.
Designed to operate under extreme marine environment; It has a noncorrosive frame, sturdy arms, and fade resistant nylon canopy.
It's unique square shape design and windproof venting mesh; provide extra support in heavy winds. The main shaft is of flexible fiberglass with stainless steel mountings.
Some key features of the magma cockpit umbrella are; secure shaded cockpit area, noncorrosive, heavy-duty, windproof, excellent UVA protection, high-performance, and portable.
Overall it's a good umbrella to have on the boat for occasions where you need shade but doesn't want to keep your bimini up. On the downside, it's a little too expensive for the features and quality.
So there is no surprise you will feel disappointed sometimes but has everything you need for your boating trip.
Magma Products Cockpit Umbrella: Check Price On Amazon!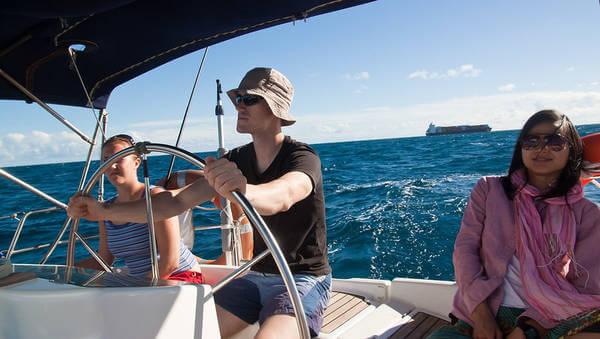 How To Choose The Best Boat Umbrella
When you are buying a new umbrella or shade for your boat one should always keep a few things in his or her mind. To make an educated decision it's important to know and ask what is your need? A center console boat can have different needs than a sailboat, and so different products are available in the market to meet specific needs.
Does it come with everything it needs to install?, How much it cost?, Is it waterproof and Mildew resistant?, Can it withstand heavy winds?, Is it lightweight?, How long will it last?, Can it be mounted anywhere on the boat?, Is it big enough?, U.V protection etc. These are some important questions you should ask to yourself; before making any final decision.
We have thus reviewed and listed the above products based on these parameters. I personally research and tested each Marine boat umbrella on each parameter and ranked accordingly. Since they are some of the basic necessities of any modern marine shade; we also look at additional aspects such as its mounting flexibility, ease of installation, 360-degree adjustable arms, additional support and more before making our final list.
Our first priority while preparing the above list was its features then weight, ease of installation, dimension/range, Cost, practicability, mildew resistant, U.V protection, ability to stay sturdy against winds, Portability, Life, versatility followed by all other aspects of a boat umbrella or sunshade. Overall I have come up with a list well suited for all; small boats, to large ones and even used for commercial activity.
Frequently Asked Questions?
Q.1 Can you use a boat umbrella with a kayak?
Ans: Yes you can easily install a portable boat umbrella to your kayak chairs. They work perfectly if they have extended arm to decrease or increase arm length.
Just simply clamp your umbrella to the seat and enjoy it. The sports-brella works great for kayaks. But one can also go for Primo Wearable Hands-Free Umbrella for its flexibility.
Q.2 Is the boat umbrella just good for shades or it protects when it starts to rain?
Ans: In general boat umbrella is built to provide shade and not protect against the rain. But a majority of boat umbrella and shades provide limited protection against rain.
This means you will be dry up above your leg but wet downwards. While some provide complete protection and a handful few provide almost no protection at all.
Q.3 What size boat umbrella, T-Top or Bimini do you need?
Ans: It depends on your need, shade area and size of the boat. For example, with umbrellas, you have the option for handsfree type, small umbrellas for kayaks/sailboat and larger umbrellas to mount on rails or center mount point.
Similarly, for T-Top and bimini top you need to consider the length and width of your boat. A bimini top runs across the length of the boat and usually come in 5′, 5'6″, 6′, 8′ and 9′ sizes. Of which the most preferred size is six feet.
Also Read:
Do You Know We Write Post On Your Request?