Last Updated on August 22, 2020 by Amit Abhishek
Boat accessories are all in all an integral part of a boating lifestyle. Going for a water adventure without necessary boat accessories; is like going for a run without appropriate shoes. But, Whether it be the essential ones or the other used to add value, style, and functions to your boat or pontoon; you want it to be economical and something that reflects your personality.
Whether you be a boating enthusiast, seasonally interested, have a new or old boat; you be surprised to know how small things made up to fill essential boat accessories list. The list contains all the essentials required not just to follow local regulation and personal safety, but something to make it remembered.
A boat is required to be stocked with essential accessories such as; life jacket, anchor, required papers, a working cellphone or marine radio, a portable fire extinguisher, first aid, and water and fuel stocks.
Although they are important and most required; i have seen places without any or much security presence. Even when they are only hardly one check your safety equipment. But as the captain of your boat you are responsible to return everyone on board in one piece without injuries; whether be from fishing, cruising, or family time in a pontoon.
Boats have a small room to store any stuff you need. So one needs to be creative and thoughtful of the things he or she really needs. So to make it quick and easy for you to stock up the most essential accessories; here is my complete list below.
Must Have Boat Accessories You Need For Your Boat Or Pontoon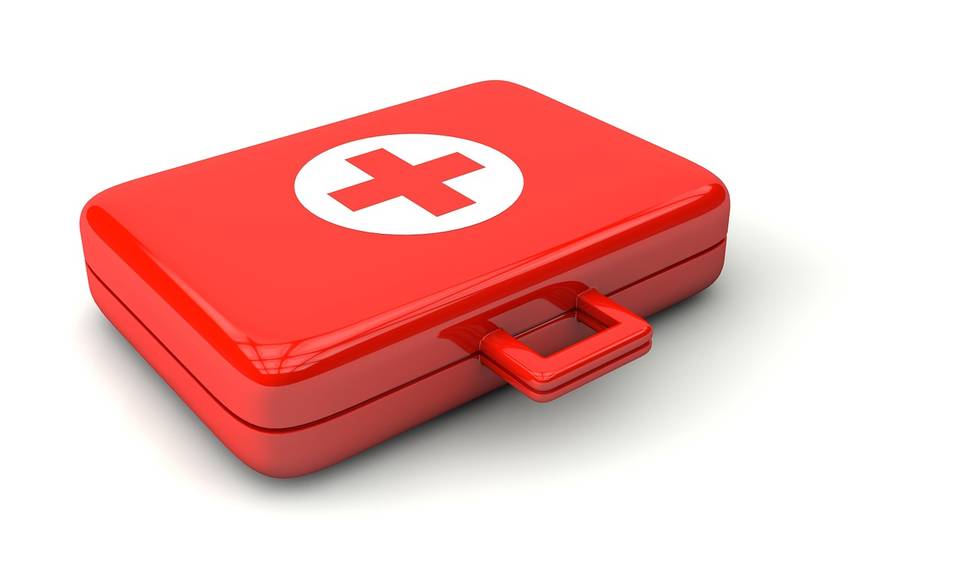 1 ) A Basic First Aid Kit
No one really knows when it is required to use the first aid kit especially when it's too late you realize its need in the middle of the water. So its among one of the tree core necessities on board your boat or pontoon.
While onboard medical emergency never happens ( at least I have not seen or heard of any ) but its never bad to be prepared just in case. It may take time for the proper medical care to reach and thus first aid should be available to be applied. The personnel on the boat should be aware of the first aid kit and know how to apply first aid.
Because of its important international and local laws have made it one of the very necessary equipments every boat should carry. A first aid kit must contain basic supplies like; antihistamines, antiseptics, tapes, band-aid, cotton, and medication packets. First aid kit on boats is required to be of zip lock types with clear markings; so they can be easily opened and used in event of emergency.
Many kits also came with separate compartments with proper markings to help smooth the process. I personally prefer a waterproof first-aid kit specially intended for marine purposes; to be used in fishing and recreational boats. Even when they are not costly people often forget either to take them on boats or to sock up their medical supplies.
Click to check its current price on Amazon !
2 ) A Personal Floating Device
A personal floating device accounts for the buoyant aid of any kind such as life jacket, throw-able floating devices, and life vest. With more than 80 percent of boat-related fatalities drowning is the number one thing to avoid. Thus it is required by law to have at least two kinds of floating devices on board.
Many boats do come with such a life-saving device provided by the company. But many states in us and across the world ask for one personal floating for every person on the boat. Participants involved in community water events such as community fishing, skiing, and other water sports are required by local authorities to wear one life jacket at all times.
These life jackets must be approved by the local authorities; for example, in the united states they should be approved by the u.s coast guard. Even if not used they must be kept at a radially accessible place. So get a personal life jacket and save the life of yourself, friends, and loved ones.
Other than that all boats of any kind with more than 16 feet long are generally required to have some form of throw-able buoyant support. They must be placed near the help to be reached and used quickly when needed.
3 ) Have A Working Phone Or Marine Radio
Riding your boat splashing into waves under unexpected weather conditions might be a fun experience but not a safe one. Even when nothing seems to happen wrong accidents can happen instantaneously; or you might be needed to ask for assistance from local authorities.
This is when a cell phone or a marine VHF radio came in handy to contact marine patrol, coast guard, or local maritime authorities. These handhelds or company fitted radio came with major international and all local maritime preset frequencies. It can come handy to know of the expected weather condition such as proceeding storms and in times of distress call.
In event of storm if you not using a VHF marine radio or not paying attention to the warning announced; it may be too late by the time you realize of the danger. While different countries have different local maritime frequencies for distress, safety, and calling; you can contact on nearest coast guard internationally on 156.800 MHz frequency.
The frequency 156.800 MHz operated by the international telecommunication union is present on channel 16 of all major marine VHF radio set; and can use with the call "Mayday! Mayday! Mayday!…..Your Distress Message". Remember this is not a telephone and so channel 16 must always be used under real emergency conditions.
You can check on the current price of waterproof Handheld 2-Way VHF Marine radio with all U.s, Canada and major international frequencies from the link over here on amazon.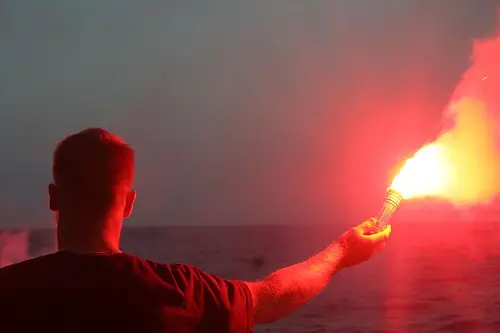 4 ) Marine Signaling Equipment
Marine signaling equipment is one of the critical boat accessories provided by the manufacturer. It's part of the emergency marine equipment needed on board to comply with minimum required regulation. The complete kit consists of handhelds flares, a blow horn, gun flares, a whistle, Pyrotechnic orange smoke, a piece of glass and radar reflectors ( not much common with economical boats ).
Even when fishing at authorized lake or offshore us coast guard and other similar authorities require you to carry proper distress signaling equipment. Furthermore the equipment available must not be be more than 42 months old and be stored in radially accessible area.
A marine distress signaling equipment is used to inform others of your current location whether in form of loud sound, orange smoke, flares or dye in emergency situation. These signalling equipment are internationally accepted and is used to call for help in distress. So never use one just to try or out of curiosity.
Failing to this may lead to heavy financial penalties and even suspension of your boat registration. Boats more than 16 feet in size are required to have multiple signaling equipment; with a brief idea on how to use them when needed. Even when you are required just to have any one distress signaling equipment for small boats ( less than 16 feet ); its highly recommended to have more than one just for the case !
5 ) Having a Correct Anchor For Your Boat Size
You won't believe but most anchors on boats are not adequate even many provided by the manufacturer. While they provide affirm position for some time they don't hold fixed to the position; due to their small size and lack of enough scope. An anchor must be chosen based on the location where you sail or fish, the depth of water and size of your boat.
Ideally it is preferred to have an anchor of slightly larger size than what recommended for your boat; unless your boat is too small or weak to withstand its weight. Its important as your 100 to 400 dollar anchor is going to let your boat ( 2000 to 6000 worth ) hold to its position. After all no one wants to let's his / her boat drift freely with waves.
Remember while most anchor dig in to sea bed or floor of the lake; its the length and weight of scope which pull along to fix you to your position. I have seen many using a good anchor with a poor or short cope ( chain or rope ); which instead is equally important and need to be longer than needed.
After digging deep and researching for an hour online i find two anchors type which seems promising; the fluke and the grapnel type. Based on my experience and knowledge i prefer the fluke anchor as it dig deep down on the sea bed; thus not letting you drift anymore. Unlike ships they not need to be much heavy to work in boats.
If you want to better secure your boat or pontoon; you may want to invest some money in a better fluke anchor ( Available on Amazon ) with some time to learn how to properly anchor your boat.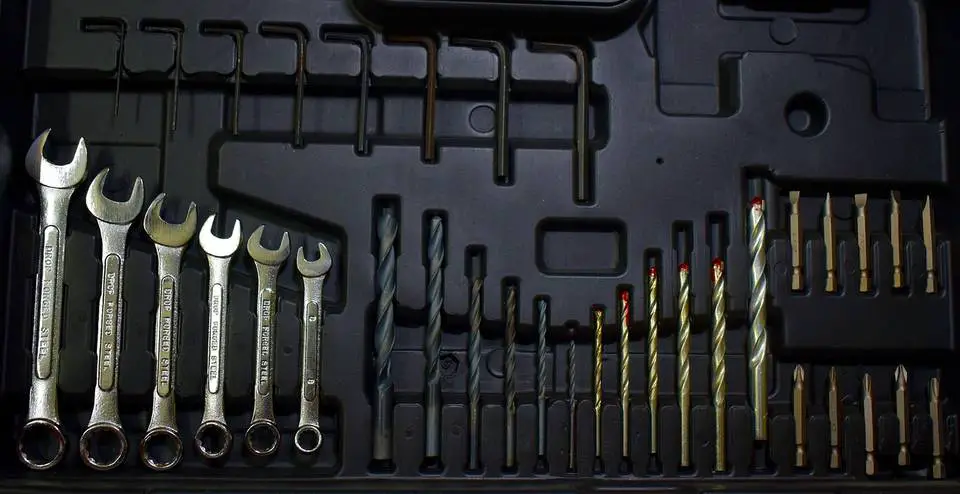 6 ) Basic Tool Kit Or A Multi-Tool
Wouldn't it be handy and great to get required tools on demand in the middle of the water ? Definitely but unfortunately there is no tool store in waters even not the quick delivery. Therefore having a good tool kit or set of tools is paramount. In fact its one of the great investment on boats that you feel not going waste.
Either you buy a preset tool kit or arrange a list of useful spares like; replacement fuse, tapes, wrench, pliers and combination of different size of screw nuts and bolts. Either way they will prove to be critical boat accessories and come handy to deal with and fix small problems on the spot.
If you have the spares and tools required to fix all the small problems; one can feel relaxed and comfortable to enjoy himself and the boating experience. If not you always be troubled by one or another thing ruining your entire weekend. So do not hold yourself and arrange all the required tools; or buy a high quality preset mechanical tool kit idle for boats and marine application.
Click Here To Check Price On Amazon
Even when i recommend to have a complete tool kit or arrange separate spares and tool; there is only much you can carry with yourself in the boat. So for those who complain about the less storage space; at least carry a portable multi tool at all times with you. While it may not be useful in all condition but are cheap and came handy in most critical situation.
7 ) Having A Water Proof Dry Bag
For over last 30 years waterproof bags have been one of the best companion of boating enthusiast and professional sailors. It not only can hold your clothes, electronics, camera equipment, food and cell phones but also protect them from water, sunlight and dust. With its function and ease of use it ranks high on must have boat necessities.
Many including me don't realize its use the first time unless its too late to do anything. It protects and keep your belongings safe while you enjoy fishing, sailing or any water sport activity. They generally came in many different colors, variety and with high quality waterproof material at inexpensive price.
So do not let you feel uncomfortable in wet clothes in bad weather or due to splashing waters; and pack your spare clothes in a waterproof dry bag. To remove any chance of accidental water ingress and best use the bag; my advice will be to fold to top down securing it with buckles. If i had to pick i will go for an uncommon color bag; so it can be easily identified even from a distance.
8 ) A Boarding Ramp With Ladder
Water sport such as boating is fun and refreshing ! Even boarding the boat for the first is an experience of lifetime. While large boats came with loading ladder or ramp provided by manufacturer; small and medium size boats don't. In these situation many find it difficult to board and onboard the boat with some even falling over to the water.
If you ask any expert or a long time boating enthusiast; he or she will tell how boats roll over when you suddenly try to aboard the vessel. Even before putting your fist step on boat you have to decide on whether to land your foot and what structure to hold on for support.
While many step on the gunwale and over to the life line while boarding somehow; but problem starts when they try to unboard ( disembark ) the vessel. So rather than boarding using a high dock without support or using a bench go for boarding ramps with ladder; which are easier to install and make things easier to embark and disembark the vessel even with loading supplies or gear.
While boarding ladder are relatively cheap ( see the current price on amazon ) and can be used by almost all fit individual. A telescopic ladder that can be hooked and unhooked to the gunwale is really a game changer. But still you can't board all of your family members specially non human family member.
You still need to add the boarding ramp to board your pets with ease; allowing him to board and unboard at his will. The best part is you can fit it on any boat with loading ladder preinstalled by manufacturer or by your own. You can check on its price over here on amazon.
9 ) A Wide Hat Or Boat Seat Umbrella
Summer is right around the corner and you want to try hands on fishing ! Great choice but premature planning can lead to discomfort, sunburns and redness thanks to scorching heat. Seating on your seat with your bait in water needs patience and time; many a times it takes hours before you get something promising.
So although you may wear along sleeve shirts with pants covering full body; you still get the face exposed to the sun. If camped for a day like that i am pretty sure you won't be available for camping for the next day; sunburn – ouch !
Thus many recreational boats such as pontoon came with preinstalled shed. It not only protect your face from scotching heat but also harmful u.v radiations. There are many adjustable umbrellas available in the market which you can literally install at any place on boat with the right brackets.
But i know since we be ourself we may or not forget to install or replace the damaged top cover or seat umbrella; its a good idea to carry a wide hat all time with yourself on boat to protect your face from scorching sun.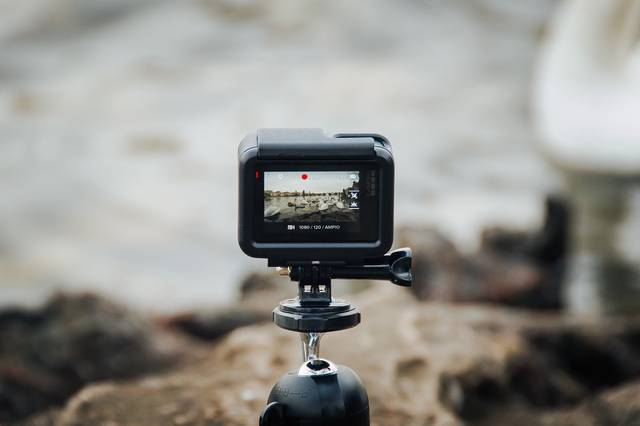 10 ) Having A Water Proof Camera
Whats the use of boat with all the boating tools and accessories; if you can't capture the moments with your loved ones. Believe it or not you are bound to see and enjoy moments; that you wish to capture either in pictures or a short video. What's better than a waterproof camera to capture moments on boat.
Your GoPro water proof camera ( Check Price On Amazon ) is not just good for travelers, divers but also equally best for sailors to fix and hold on to the boat with a 360 degree angle. Unlike regular cameras your GoPro allows for capturing life events on boat in real time; best to be seen and shared among friends and family.
These things are amazing; they came with full touch and hand free controls and can take pictures and videos at very very high definition. With this thing on your boat your fishing actions, hard maneuvers and events can't loot any clearer less than nice DSLR camera. Even 99% of water sports and fishing videos you generally see on youtube; are taken on Gopro.
Set your Gopro everywhere you want with the quick stick mounting accessory. Add few more near cockpit or under the seat pedestal using row bar mount. Get it rolling and do what you want. At the end of the day when you catch lots of fish or have push the limits; take your memory card out of Gopro, plugin to computer and watch.
Mark my words " It will not only helps you analyze your good or bad moves but makes you better day after another". Analyze on your techniques figuring out what wrong and Right you did and share the best of them with friends and family.
11 ) Spare Rain Coat / Jacket On Board
Even with advanced satellite imagery and 24 by 7 weather monitoring no one can say for sure; when will the weather shifts its mood. Out at sea and near coastal waters things can change quicker than expected. So its not unlikely that by the time you came back and dock; it already starts raining.
Many a times while fishing we hold tight with our bait and position letting light shower to pass through. Then we should be in a position that we not get wet; while the rain come and go in quick time. This is when having raincoats or rain jacket on board came handy; as you don't need to carry them each time.
So stay prepared in advance with some spare over size raincoats on boat so anybody can wear in need. As it not takes time for winds and rain to pop up at sea. Do not let go the opportunity to catch more as many of the fishing hits happen generally when the weather is suddenly changing.
Few More Extra's To Consider Before Kick Start The Boat Engine
Although they are not essential boat accessories or must have necessities on boat; having snacks to eat, some stock of fuel, an extra dock line and multipurpose cup and fishing rod holder are somewhat important. If you been into boating and water sport for a while you might already know the importance of keeping extra fuel with yourself.
This release stress on yourself to come just in time before the fuel lasts; give you some more time to enjoy and fish. On another hand contrary to your home you don't have the luxury of fresh foods and left overs in refrigerator. So bring up some snacks with you to have on boat while you relax and feel urge to eat something.
Doesn't it happens with all of us when we dock and start to tie up and secure our boat and rope breaks. While it doesn't happens all the time but when it does; we are left with two ends trying hard to hold them together. So keep a spare dock line in your storage locker just for these case.
Thus do not worry to long for boat accessories and add up on your available required accessories and other necessities.
Also Read:
Do You Know We Write Post On Your Request?